Posted on Thursday, May 29th, 2014 at 5:07 pm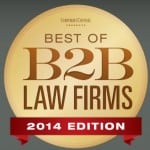 Hach & Rose, LLP, is proud to announce that the firm was included in Fortune Magazine's inaugural listing of the best business-to-business law firms in the country for 2014. The selections, based on firms recognized in Corporate Counsel's October 2013 issue, span a wide range of firms representing a variety of Fortune 500 companies in different areas of litigation.
At Hach & Rose, LLP, we are committed to providing our clients with the dedicated representation they deserve, and we are honored to be included in this list of law firms.