by Michael Rose
Construction sites are inevitably hazardous places. In fact, compared to job-related deaths in other lines of work in the United States, construction held the highest number. This elevated quantity can be linked to the high levels of activity associated with construction sites. They are typically very lively and fast-paced, with different people working on different tasks simultaneously. These tasks can range from maneuvering heavy-duty trucks that haul material from place to place, working from open heights and excavations, and making significant noise simultaneously on-site. Workers are generally in contact with powerful machinery such as forklifts, trucks, and cranes, which, if improperly advised on their correct use, may harm the worker. Standing alone, these heavy-duty machines are dangerous in nature, and that danger increases immensely if negligently or recklessly administered. Additionally, construction workers are often required to ascend to great heights and work on roadsides where construction mishaps have an increased potential to occur. Ladder accidents are a significant factor in workplace injuries. Call our personal injury attorneys today if you were injured due to unsafe ladder use.
Falls Are a Primary Source of Workplace Injuries
About a thousand workers die each year due to injuries sustained on the job. The ways in which a worker can sustain an injury on the job are infinite. A worker may fall from a building due to a faulty scaffold or into a hole or ditch on the construction site. Ladders are another tool routinely engaged with at construction sites. While a ladder appears less dangerous than a forklift, truck, or crane on its face, construction workers are regularly injured if they are not properly safeguarded. Injuries at construction sites are primarily caused by falls from scaffolds, followed by ladders accidents. To ensure the safe use of ladders at worksites, the Occupational Health and Safety Administration (OSHA) has implemented regulations to deter the number of ladder-related incidents. Falls are the leading cause of death at construction sites, according to OSHA. Moreover, one-third of these deaths are indeed ladder-related.
Ladder Accidents Caused by Unsafe Ladder Use
Failure to adhere to proper ladder safety can result in life-threatening injuries for workers. Selecting the wrong type of ladder, incorrect placement of ladders, improper use of ladders, and using worn or damaged ladders are just a few of the ways in which accidents may happen. As construction workers are in contact with ladders quite regularly for painting and carpentry jobs, the potential for injury is heightened. Issues arise when contractors mistakenly implement certain ladders that are not equipped for the task. Most jobs at construction sites require a particular type of ladder to complete the job safely. Injury is likely unavoidable when a contractor wrongly assigns a type of ladder for a job it is not suited to complete.
Ladder Accidents Cause Grave and Fatal Injuries
As falls from heights are among the leading cause of grave and fatal injuries suffered by construction workers, the need for immediate attention to protect these workers is paramount. These injuries are a significant public health peril and require a comprehensive understanding of the pivotal factors involved. These injuries can be prevented if proper safety procedures are strictly followed and administered by employers. Maintaining regular ladder inspections to ensure they are kept in good condition is a small yet crucial procedure employers need to implement for the well-being of their employees. The most common ladder hazards are linked with the misuse of portable ladders not in harmony with their terms. The Occupational Health and Safety Administration has stated that roughly 36.5% of all deaths in the workplace transpired due to employees falling off ladders, roofs, and scaffolding. To reduce the number of fall-related deaths, it is of the utmost importance for workers and employers to take proper precautions and remain aware of their surroundings.
Injuries Caused by Unsafe Ladder Use
Due to the great heights that ladders enable construction workers to reach, detrimental injuries are often the outcome when provided with faulty equipment. While each construction worker suffers harm differently due to ladder-related accidents, several injuries are shared among them. Head injuries such as traumatic brain damage and skull fractures, broken bones, spinal cord injuries, and death are just a few. The extent of the injuries a worker suffers may depend on how much of the ladder a worker has climbed before the fall, how they fall, what type of surface they fall on, and the part of the body that hits the ground first. Other factors, such as the worker's age, the worker's medical history, and the current state of health of the worker at the time of the fall, can contribute to the severity of the injury and its aftermath.
To prevail in a personal injury lawsuit, it must be found that the defendant owed a duty to the worker to provide for the worker's safety and equipment that is safe for the worker to use. Generally speaking, any party that supplies or maintains ladders, scaffolding, or fall protection equipment owes a duty to the workers that use that equipment to ensure that equipment is safe. Similarly, a defective product that is unjustly dangerous or performs below reasonable standards may result in liability on the manufacturer and/or supplier if that product injures someone.
Workers Compensation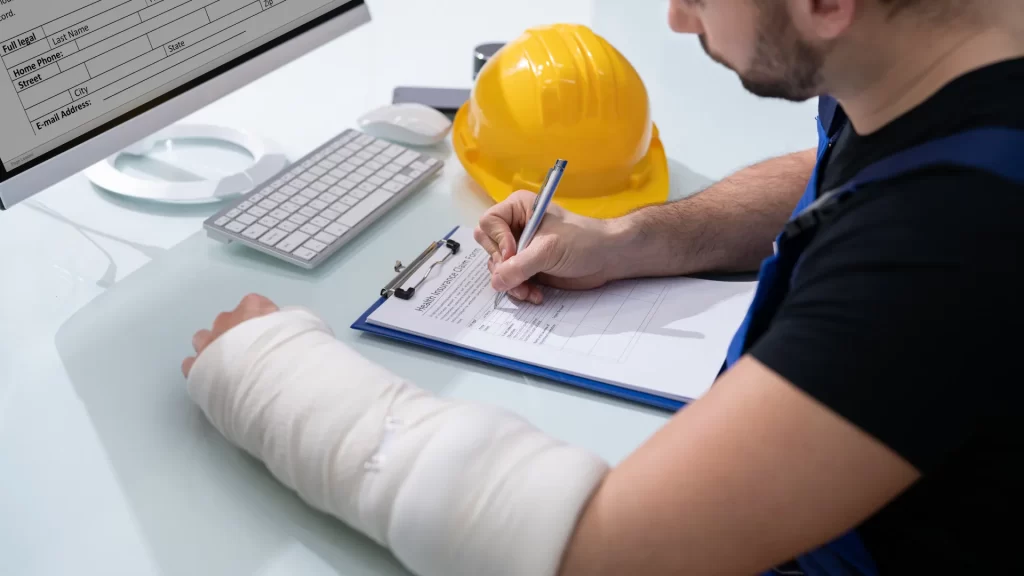 Workers' compensation affords injured workers benefits, such as medical benefits, permanent impairment benefits, benefits for vocational rehabilitation, and weekly benefits to compensate those injured. However, these benefits can rarely fully compensate injured workers for their losses. The issue with the benefits provided is that they do not incorporate, for example, the loss of future earning potential, emotional pain and suffering, future medical expenses, and the loss of quality of life. Fortunately, injured workers may seek damages for these issues through a traditional personal injury lawsuit. Additionally, injured workers may have a claim against someone the worker does not have an employer-employee relationship with when that person's negligence caused the injury. Fortunately, the State of New York has the strongest laws in our nation to protect construction workers. Labor Law Sections 200, 240, and 241 provide these protections.
If you or someone you know is a construction worker who has been injured on the job in the State of New York, you must contact a skilled personal injury firm regarding your legal rights and options. At Hach & Rose, LLP, we recognize that each client has one chance to be compensated when they are injured. Our recent results portray our success in compensating injured workers due to ladder accidents. These results include a jury verdict totaling over 12 million dollars for a ladder-related accident and many settlements that include seven-figure and six-figure recoveries. Do not hesitate to contact the experienced and knowledgeable New York personal injury attorneys of Hach & Rose, LLP today at (212) 779-0057 or online.
Contact Our Construction Accidents Attorneys
In 2010 and 2011, we achieved four out of the top 100 results for personal injury claims, as the New York Jury Verdict Reporter reported. Those results were followed in 2012 with the highest reported jury verdict in the State of New York construction accident case. Whether you have suffered your injury due to perilous construction site conditions, scant training, incompetent supervision, insufficient safety procedures, and/or substandard or obsolete construction and safety equipment, the construction injury attorneys of Hach & Rose, LLP are equipped to bring you justice you deserve!