Truck Accidents Caused By Fatigue and Hours of Service Violations | NYC Lawyers
Suffering injuries in a truck accident caused by driver fatigue due to an hours of service violation can have devastating consequences. Because of the sheer size and weight of commercial vehicles, the Federal Motor Carrier Safety Administration (FMCSA) has strict requirements in place that are designed to protect other road users. One key group of regulations is the Hours of Service (HOS) regulations. These rules dictate how long a driver is allowed to operate a vehicle. Exceeding these limitations can easily lead to driver fatigue, which can cause dangerous collisions.
If you suffered injuries in a commercial truck accident that you believe resulted from driver fatigue, Hach & Rose, LLP can help. Our lawyers can investigate the crash to determine whether the driver or the trucking company was operating in violation of any regulations. We will work to hold the responsible parties accountable and pursue the compensation you deserve.
Call us today at (212) 779-0057 or contact us online for a free and confidential case review.
What Are Hours of Service Regulations?
The FMCSA's Hours of Service Regulations limit the number of hours a trucker can drive and the number of hours they may be on duty each day and week before needing rest between shifts. Truck drivers and trucking companies are required to keep track of:
On-duty time, which includes driving time as well as time spent waiting to load and unload cargo
Off-duty time
Driving time
Time in the sleeper berth
One of the challenges of determining whether a driver violated their HOS is that the regulations are subject to change due to lobbying from various groups. Experienced truck accident attorneys will maintain a familiarity with the current rules and exceptions that apply to each situation.
Why Do Hours of Service Regulations Exist?
Driving while fatigued is undeniably dangerous. It creates great potential for the driver and other road users. Because the vehicles commercial truckers operate are so large and heavy, HOS rules are meant to protect both the truckers and others on the road from the dangerous consequences of fatigued driving.
A recent survey suggests that about 13 percent of truck drivers who have been involved in accidents report that they were drowsy at the time of the collision. Data from the Centers for Disease Control and Prevention (CDC) indicates that remaining awake for more than 17 hours in a row has the same effects on a person's driving abilities as having a blood alcohol content of .05. When the time awake is extended to 24 hours, the driver suffers a similar level of impairment to having a blood alcohol content level of .10, which is well above the legal limit in every state.
The main challenge of enforcing HOS regulations is that enforcement tends to rely on drivers self-reporting the hours they have driven and been off duty. However, truckers and trucking companies have been known to misrepresent these records to cheat the system. Therefore, a skilled attorney will often need to conduct a thorough investigation into any accident in which there is a suspicion of HOS violations.
Paper Logs versus Electronic On-Board Recorder Systems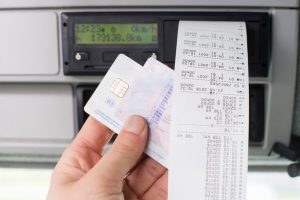 The traditional way for truck drivers to keep track of their hours is to use a physical logbook. Often, these forms require the driver to track every 15-minute increment within a 24-hour period, noting whether they spent that time driving, on duty, off duty, or in their sleeper berth.
Today, most trucks must have an electronic logging device (ELD) installed. Trucks may also employ an electronic onboard recorder (EOBR) to keep track of the time the trucker spends driving. If the truck has an ELD or EOBR installed (sometimes called a black box), the driver still needs to report additional on-duty and off-duty time in their physical logbook.
How to Determine Hours of Service Violations
Some HOS violations might become apparent when looking at the logbook itself. In many cases, however, an attorney will have to investigate other forms of data if they have reason to believe someone misrepresented information on the paper log.
Evidence that can help determine whether logbook data has been altered includes comparisons between:
The original and carbon copies of each page of the logbook
The trucker's logbook and the dispatch logs
The trucker's logbook and bills of lading
The trucker's logbook and trip receipts
The number of miles recorded in the logbook and the amount the driver was paid during the period in question
The logbook and the black box data
Performing these comparisons requires an attorney to gain access to as many different data sets as possible. This information can easily disappear between the date of the accident and the filing of a claim. Therefore, it is essential to consult with an attorney as soon as possible after the accident. This will give your lawyer time to instruct the trucking company to maintain the necessary documentation.
Compensation for Injuries Resulting from Truck Accidents Caused by Fatigue and HOS Violations
If you have been injured in a truck accident that a fatigued truck driver caused, an experienced truck accident attorney can help you file a claim for losses, including:
Medical expenses
Medication costs
Property damage
Lost wages due to missed time at work
Disfigurement and disability
Emotional distress
Loss of enjoyment of life
How much money you recover will depend on the circumstances of your individual case. Your lawyer can help you arrive at a good idea of how much compensation you can expect to receive.
Contact an Experienced New York Truck Accident Attorney
Many people feel overwhelmed and confused after suffering injuries in a truck accident. The experienced and compassionate legal team at Hach & Rose, LLP understands the challenges you are facing. We will work to help you find justice. Our knowledgeable and skilled New York City truck accident lawyers will take care of every aspect of your claim so that you can focus on your physical and emotional recovery.
Call us today at (212) 779-0057 or contact us online for a free and confidential case review. We will listen to your story and help you understand what your legal options are.
Related posts: