After an injury, you may be unable to tell the severity of a sustained puncture wound or laceration. While a slip-and-fall accident on another person's property can result in a significant injury, such as head trauma or spinal cord injury, most injuries aren't as life-threatening. However, commonplace injuries, such as cuts and puncture wounds, can be severe in their own right and lead to more serious complications. For instance, you may need hospitalization if a laceration or puncture wound infects you. It's never wise to downplay any cut.
At Hach & Rose, LLP, our New York premises liability attorneys have more than 100 years of combined experience defending the rights of accident victims. We have earned the respect of our peers in the legal community and recovered more than $500 million in compensation for our clients.
When you hire our New York City personal injury firm, you benefit from our collective knowledge and experience. Our lawyers work together to ensure you get the best legal representation possible. We do not charge fees unless our clients recover compensation for their injuries.
Receive a free consultation today by calling (212) 779-0057 or visiting our contact page.
How New York Premises Liability Cases Work
According to the New York City Bar Association, property owners must keep their premises safe and free of potential hazards. This rule applies to anyone lawfully on the premises, regardless of their relationship with the property owner. Suppose a property owner is negligent, and their actions (or failure to act) led to an injury-causing accident. In that case, the property owner can be held liable for any injuries you suffered, including wounds and lacerations.
The New York City Bar Association states that to hold a property owner liable in a premises liability case, you must prove that:
You were legally on the property.
The property owner knew or should have known about the hazard on the property that caused the accident but failed to fix it or properly warn you.
The property owner's negligent actions caused your injuries.
What's the Difference Between Wounds and Lacerations?
Puncture wounds and lacerations are similar in some ways. Both injuries involve tears in the skin. However, the two types of injuries are also different in key ways. A laceration occurs when something creates a jagged tear in your skin. The cut from a laceration often contains bacteria or tiny pieces of debris from whatever caused the injury. Many lacerations can cause severe bleeding and infections without swift medical attention.
A puncture wound occurs when a pointed or sharp object pierces your skin. After penetrating the skin, the object causing the puncture wound may continue deeper and damage the underlying tissue. Unlike lacerations, many puncture wounds do not result in heavy bleeding, making them seem less dangerous. However, puncture wounds often reach other soft tissue beneath the skin, which can cause infections and other serious health problems.
If you are having trouble distinguishing between a laceration and a puncture wound, think about the difference between cutting yourself with a knife and stepping on a nail. When a knife cuts you, the injury will extend across the cut length without cutting too deep. However, when you step on a nail, the affected area may look small but puncture deep into the tissue.
Common Hazards That Can Cause Wounds or Lacerations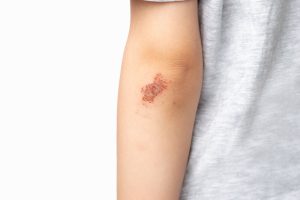 Any sharp or pointed object can potentially cause a puncture wound or laceration, but some of the more common hazards that cause these injuries include:
Shards of broken glass
Debris left on the floor of construction sites (nails, screws, construction tools, etc.)
Jagged metal edges
Being bitten by a dog
Potential Complications from Wounds and Lacerations
Aside from the pain of the injury itself, lacerations and puncture wounds can lead to further medical complications such as:
Wound infections
Blood infections (sepsis)
Gangrene
Amputate the injured digit or limb
Loss of function in the affected area
Organ damage
Nerve damage
What to Do If You Suffer a Wound or Laceration on Someone Else's Property
If injured in an accident on someone else's property, you need to protect your right to compensation by following the steps below:
File a written report with the property owner or a manager.
Document the accident by taking photos of where you were injured, any potential hazards causing the accident, and your injuries.
Look for any eyewitnesses or security cameras that may have seen what happened.
Seek medical treatment.
Keep your medical records and receipts.
Do not give any statements to insurance companies.
Speak with a New York premises liability lawyer as soon as possible.
Potential Compensation in New York Premises Liability Cases
Your losses can add up quickly when you include the pain from your injuries, the cost of medical treatment, lost income, and other costs associated with a laceration or puncture wound. By filing a personal injury lawsuit against a negligent property owner, you may be able to recover compensation for:
Your medical bills, including the cost of future care you may need
Your lost income and reduced future earnings
Your pain and suffering
Your emotional distress
Your diminished quality of life
Statute of Limitations on New York Premises Liability Cases
You have three years to file a lawsuit to recover compensation if you suffered an injury on someone else's private property. However, the timeline to bring a lawsuit against a public agency is much shorter. After any injury, speaking with a premises liability attorney as soon as possible is a wise decision.
Contact a New York Premises Liability Attorney Today
The New York wound and laceration lawyers at Hach & Rose, LLP know how devastating these injuries can be. We are committed to seeking maximum compensation for the costs these injuries may have caused you. To learn more about your rights, call (212) 779-0057 or visit our contact page today for a free consultation.