New York Attorneys for Electric Shock Accidents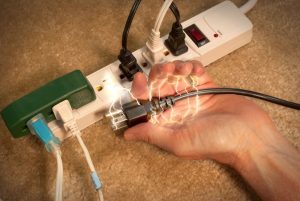 Electricity powers our lives, but it can also compromise lives. Electric shock injuries can be extremely significant and may cause disfigurement and permanent disability. Loose cables, exposed wires, and faulty electrical systems can threaten life and limb. Who ensures these threats don't jeopardize your health and safety? In many cases, the answer is "property owners." Call our Attorneys for electric shock accidents in New York if you were injured by an electric shock on someone else's property.
Property owners are responsible for keeping their visitors and guests safe from harm, which includes taking measures to prevent serious electric shock injuries. At Hach & Rose, LLP, we strive to hold negligent property owners responsible when their actions or lack thereof cause a premises liability accident.
Have you received an electric shock on someone else's property? You may be entitled to recover compensation for your electric shock-related financial losses and injuries. Speak with a skilled New York premises liability attorney from Hach & Rose, LLP by calling our office at (212) 779-0057, or set up a free consultation using our contact form. We will review your case, discuss your legal rights with you, and outline how we can help you achieve justice.
What Are Electric Shock Injuries?
Electric shock occurs when a person encounters an electrical energy source. When contact with an electrical source occurs, electrical energy can surge through the body. Electricity can cause tissue damage, thermal burns, and cardiac arrest.
The extent of the damage caused by electric shock depends on the strength of the electrical current. The Occupational Safety and Health Administration lists the effects of electric shock by current strength as follows:
Below one milliampere: Generally, there is no internal or external harm to a person.
One milliampere: People can experience a mild tingling sensation
Five milliamperes: There may be a slight but jarring shock, but generally people experience little to no pain
Six – 25 milliamperes: Women will typically experience a painful shock and potentially a loss of muscle control
9- 30 milliamperes: Men can suffer a painful shock and may not have the ability to let go of the source of the electrical current
50 – 150 milliamperes: Electric shock is extremely painful, and a person may experience respiratory arrest and muscle contractions. Exposure to this level of current can potentially be fatal.
1,000 – 4,300 milliamperes: Muscle contractions and nerve damage are common. Heart rhythm can cease, and death is likely.
10,000 milliamperes: Significant burns and cardiac arrest will occur. Death is considered probable.
Water can easily conduct electricity. If an individual's skin is wet or exposure to an electric current happens in a moist environment, electric shock injuries would be more severe.
Types of Electric Shock Injuries
Electric shock can cause a wide range of injuries. While the most obvious and common injuries are burns, electrical current can disrupt heart rhythm. A complex electrical system controls the beating of the heart. Cells in the right atrium act like a pacemaker. These cells send electrical signals that spread through the heart along electrical pathways. The electrical signals control the heart's pumping action by alerting each chamber in the heart when to move. When an outside electrical current is introduced to the body, it can interrupt the normal electrical function of the heart, causing cardiac arrest and irregular heart rhythms.
Common electric shock injuries seen in premises liability accidents include:
Thermal burns
Electrical burns
Loss of muscle control
Soft tissue damage
Nerve and muscle damage
Complications of Electric Shock Injuries
Electric shock not only causes acute injuries but can also cause serious medical complications. Brain damage, organ damage, physical impairments, and disfigurement are not uncommon. Potential complications or medical conditions caused by electric shock can include:
Cardiac arrest and heart damage
Respiratory arrest
Scarring
Disfigurement
Loss of fingers or toes
Infection
Thermal and electrical burns can cause significant tissue destruction resulting in the need for skin grafts. Burn injuries are notoriously painful and prone to serious infections. Long-term damage from burns can cause scarring, disfigurement, and a loss of mobility.
Common Premises Liability Accidents that Can Cause Electric Shock
Slip and fall accidents are among the most common premises liability claims. Electric shock injuries are not frequently associated with premises liability, but they can happen, especially when negligent property owners fail to maintain a safe environment. Children are especially at high risk for significant electric shock injuries and death. Some of the most common causes of premises liability accidents that can result in electric shock include:
Loose wiring or cords
Exposed electrical wiring
Frayed cords or wires
Exposed light fixtures
Damaged electrical equipment
Improperly covered electrical outlets and sockets
Improperly maintained electrical systems
Improper repairs made to electrical systems or equipment
Improperly stored electrical tools or equipment
Mislabeling hot cables or wires
Failure to warn about potential hazards
If you have received an electric shock on someone else's property, talk to an experienced New York premises liability attorney as soon as possible. Property owners have a duty to keep you safe. They may be held accountable for compensating you for your injuries and accident-related financial losses when they neglect this duty.
Contact an Experienced New York Premises Liability Attorney Now
You never expect a visit to someone else's property to turn into a nightmare, but that's exactly what can happen when a property owner fails to maintain their establishment in a safe manner. At Hach & Rose, LLP, we understand that you may be hesitant to proceed with the legal process, especially if you were injured on a friend or family member's property. However, you owe it to yourself to seek fair compensation for your injuries.
Our legal team is committed to helping people who suffered electric shock injuries on someone else's property receive justice and recover the compensation they deserve. We are ready to provide you with one-on-one attention and legal advice from start to finish. Read about the experiences of our other clients on the testimonials page.
Contact our New York office today at [phone number] to discuss your case with a premises liability attorney. The consultation is free, and you don't owe us payment unless we recover your compensation.