Have you been hurt in a serious car accident in New Jersey? If so, you may feel overwhelmed and wonder what to do next. The New Jersey auto accident attorneys of Hach & Rose, LLP can help you pursue the compensation you need by filing a claim with the insurance company or taking your case to court if necessary. Contact us today at (212) 779-0057 to schedule a free consultation.
Our experienced New Jersey car accident lawyers are ready to assist you as you seek the justice you deserve. Our attorneys have over 100 years of combined legal experience, which gives us the knowledge and resources to handle even the most complex car accident cases.
Common Causes of Car Accidents in NJ
There are many ways that a car accident can occur, frequently resulting in severe injuries and fatalities. Some of the most common causes of car accidents in New Jersey include:
Distracted driving, such as texting, eating, playing with the radio, or any other action that takes the driver's eyes off the road
Speeding/driving too fast for the conditions
Failing to yield the right of way
Following too closely/tailgating
Driving under the influence of alcohol or drugs
Reckless or aggressive driving, including road rage, running stop signs, and weaving in and out of traffic
Failing to obey traffic signs and signals, such as red lights, yield signs, and crosswalk signals
Driving while fatigued, is especially a problem for many truck drivers who are on the road for extended periods of time
Inclement weather, which can result in poor visibility and dangerous conditions
Injuries Caused by Car Accidents in NJ
The injuries that a victim may suffer in a car accident can range from minor—such as a mild concussion, bruises, and cuts—to severe, including traumatic brain injury, spinal cord injuries, and compound fractures. Victims may only require short-term medical treatment in the former, while the latter may result in lengthy hospital stays and permanent disability that requires lifelong care.
Some of the most common injuries that result from car accidents include:
Concussion
Whiplash
Head and brain injuries
Lacerations
Eye damage
Broken/fractured bones
Spinal cord damage
Soft tissue injuries
Internal bleeding
Paralysis
Crush injuries
Ejection injuries
Loss of limb
If your injury prevents you from returning to work, performing normal daily tasks, or caring for your children, you may be owed financial compensation. Let us help you hold the at-fault party liable for causing the accident so you can receive the necessary damages to get back on your feet.
If your injuries are so severe that you have a permanent disability, then you are facing a lifetime of expensive medical bills and other related costs—costs you should not have to pay out of your own pocket. Instead, the person or persons that caused the accident should be held responsible for your losses.
Compensation for a New Jersey Car Accident
Car accidents are not only devastating to your health, but they can also devastate your finances. Fortunately, under New Jersey laws, you can take legal action to recover damages for expenses such as past medical bills, future medical bills, lost earnings, and lost earning potential.
There are two main types of damages in a car accident case: economic and non-economic. Economic damages compensate you for the quantifiable expenses of an injury, such as your medical bills, lost wages and future earning potential, and property damage.
Non-economic damages refer to compensation for personal, non-monetary losses such as pain and suffering, emotional distress, loss of life's enjoyment, and permanent disability or disfigurement. The emotional distress and trauma associated with a devastating car crash can leave you emotionally scarred for the rest of your life.
Let the knowledgeable lawyers at Hach & Rose, LLP assess your case. With over 100 years of combined legal experience, they can determine the value of your claim no matter how complex the accident was.
Steps to Take After a Crash in New Jersey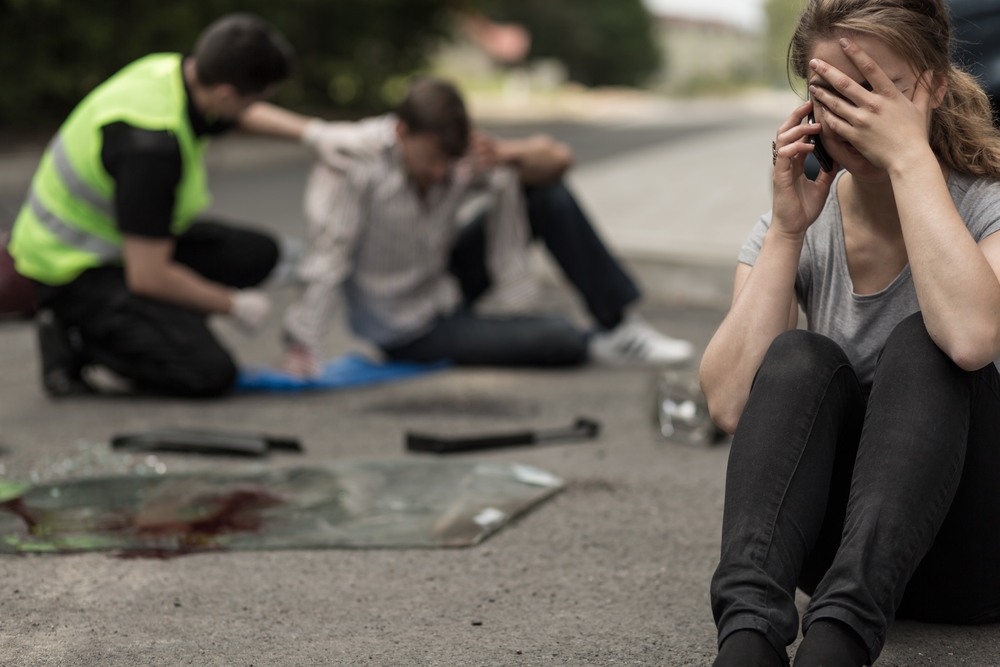 If you've been injured in a car accident in New Jersey, taking the following steps can protect your health as well as your ability to receive compensation from the person who caused the collision:
Call 911 and remain at the scene until police and paramedics arrive. If possible, move your vehicle to a safe location and check on the other vehicle's occupants.
Exchange information. Police will likely get your driver's license, insurance, registration, and plate information. It is also wise to get the name, contact information, and insurance information of the other drivers involved in the crash.
Take pictures of the accident scene and damage and try to preserve any other evidence, including witnesses' names and contact information.
Seek medical attention. If paramedics arrive, allow them to evaluate you, even if you feel OK. If you do not need to go to the hospital, follow up with your doctor as soon as possible. Some injuries are not immediately apparent after a crash. You could wake up the next day in pain.
Notify your insurance company. Most policies require this after an accident, regardless of who was at fault. This is especially important if you have opted for personal injury protection (PIP) insurance.
Consult with a lawyer. Hire a qualified car accident attorney to assist you in dealing with the insurance companies to get the damages you may be entitled to.
How Hach & Rose, LLP Could Help
At Hach & Rose, LLP, our New Jersey car accident lawyers will fight for the full and fair compensation you deserve. We are prepared to go to court if the insurance company plays hardball over-paying you the compensation that you deserve. Our experienced attorneys have secured over $300 million in damages for our clients in settlements and jury verdicts, many stemming from car accidents like the one that injured you.
Call us today for a free consultation.