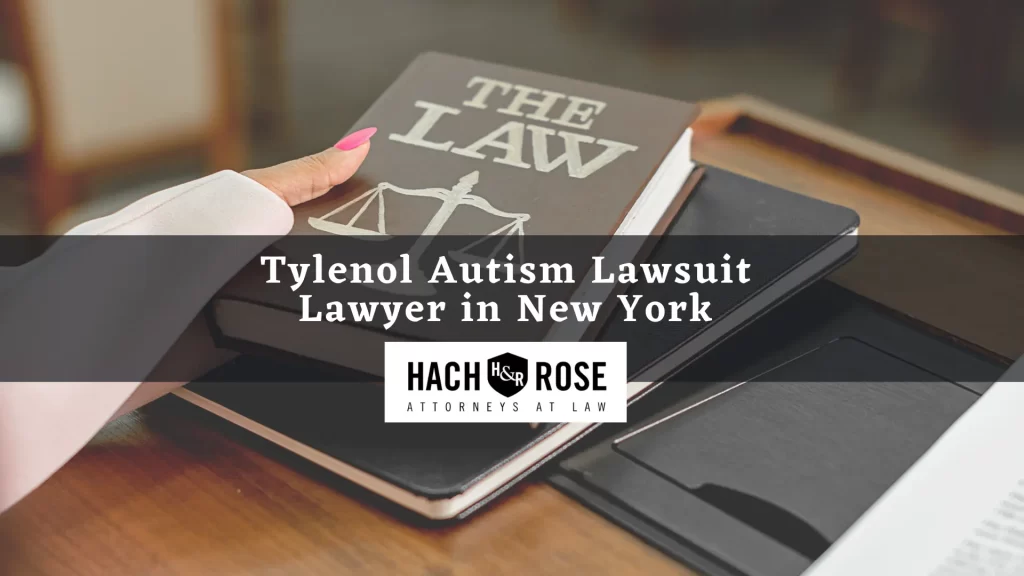 We are investigating claims linking Tylenol use during pregnancy with children diagnosed with autism spectrum disorder (ASD) and other neurodevelopmental conditions like ADHD. Acetaminophen has been marketed to relieve minor aches and pains under various brand names, with Tylenol being the most well-known in the United States.
However, recent studies have confirmed a strong link between Tylenol use during pregnancy and autism spectrum disorder (ASD) development in children. 
Choose Hatch & Rose to Represent Your Tylenol Autism Claim
Navigating a personal injury claim can be a stressful experience, particularly if it is being evaluated alongside other similar cases in a multidistrict litigation, as the Tylenol autism lawsuits are. At Hatch & Rose, our team of Tylenol autism lawyers is prepared to manage the complex dynamics of a class action lawsuit, as we have successfully represented numerous clients in mass tort issues over the years. 
We will determinedly pursue a fair settlement on your behalf by making a thorough inquiry into your case and the behavior of the defendant, meticulously documenting your damages, establishing a compelling argument for the defendant's liability, and providing convincing evidence as to the value of your damages. Our unwavering resolve has proven exceedingly effective in holding negligent parties accountable for the harm they have inflicted on our clients. 
Clients benefit from our extensive experience, transparent communication style, and strategic mindset in negotiations. Each case we handle is treated with the same respect regardless of size because at Hatch & Rose, we believe that every client we represent is valuable. Guided by this conviction, we have consistently maximized compensation for countless injured New Yorkers for nearly twenty years. Our reliable track record of success reaffirms our client-centered approach to negotiating personal injury lawsuits. 
Acetaminophen Exposure
These studies have also indicated that exposure to acetaminophen in utero may lead to higher rates of developmental disorders and other neurological issues, including autism spectrum disorder, attention deficit hyperactivity disorder (ADHD), reduced IQ levels, reduced executive function, oppositional defiant disorder, conduct disorder, and language delays.
If you took Tylenol or other medications containing generic acetaminophen while pregnant and your child was later diagnosed with autism, you could be entitled to seek compensation. Contact an experienced Tylenol autism lawsuit attorney at Hach & Rose, LLP for a free consultation to discuss your situation and evaluate your legal options.
Despite Its Popularity, Acetaminophen Is Not Well Understood
According to the Consumer Healthcare Products Association (CHPA), approximately 23% of US adults (52 million) use acetaminophen weekly. According to the CHPA, acetaminophen is found in over 600 different medications. We all know acetaminophen relieves pain. However, despite the drug's prevalence, scientists still do not fully understand how acetaminophen treats pain and reduces fever.
Even though researchers know very little about acetaminophen's mechanism of action, pregnant women have long been told that acetaminophen is the safest drug on the market for pain relief during pregnancy. Because of this, pregnant women use Tylenol and other acetaminophen-based medicines more than any other over-the-counter pain reliever.
Tylenol May Lead to Autism Spectrum Disorder - Scientific Research
Numerous recent studies have connected prenatal acetaminophen exposure to a higher risk of autism in children. In 2016 the American Journal of Epidemiology published a report indicating that acetaminophen use during pregnancy was associated with a higher risk of autism in males and an increased risk of attention-related outcomes for males and females.
Recent Studies Show Prenatal Exposure
A 2019 study conducted by Johns Hopkins University and funded by the National Institutes of Health built upon these findings. The study was published in the scientific journal JAMA Psychiatry. For the Johns Hopkins University study, researchers took a unique approach: they collected samples of umbilical cord blood from hundreds of newborns, then measured the amount of acetaminophen in each sample. Thus, the researchers were solely looking at the amount of acetaminophen the cord blood samples contained. They then divided the study subjects into three groups based on the level of acetaminophen found in their umbilical cord blood. Researchers found that the children with the highest levels of acetaminophen in their cord blood samples were more than three times as likely to develop ASD down the line than children whose cord blood had the lowest levels of acetaminophen.
In 2020, another study published in JAMA Psychiatry further corroborated the Johns Hopkins study. It found that fetal exposure to Tylenol or generic acetaminophen in the womb notably increased the risk of childhood autism and ADHD. Researchers discovered that the risk of being diagnosed with one or both of these conditions increased as prenatal exposure increased. The study concluded that further investigation was warranted.
Health Professionals are Taking Notice of the Increased Risks of Autism and ADHD
We note that more and more health professionals warn of the risks of using acetaminophen during pregnancy. The growing scientific evidence is becoming accepted by health professionals, who in turn are warning pregnant mothers about prolonged exposure to acetaminophen being linked to children who develop autism spectrum disorder.
Medical studies have consistently illustrated the same causal link between acetaminophen exposure and neurodevelopmental disorders. Several additional studies have been commissioned to continue researching this link.
The Tylenol Autism Class Action Lawsuit
November 2023 Update on Acetaminophen/Tylenol Autism Lawsuit
Plaintiffs and defendants in the Tylenol Autism Litigation have filed their Daubert motions. Judge Cote will rule on what scientific evidence will be admissible in the Tylenol autism lawsuits, which may entail a hearing in early December where she can ask for additional details on written arguments. The MDL now contains 382 plaintiffs, which may skyrocket based on the outcome of this decision.
September 2023 
The FDA has declined to offer an opinion on what acetaminophen warning labels should contain. In the meantime, the Tylenol autism MDL has grown to include at least 265 claims. Thousands of plaintiffs outside the MDL have secured legal representation, but many are waiting to see how Judge Cote rules on the Daubert motions, which are arguments for what scientific evidence should be allowed to be considered in court. 
May 2023 
Johnson & Johnson is seeking an appeal of Judge Cote's ruling on their motion to dismiss. Tylenol autism claims from Texas are facing dismissal after Judge Cote ruled that the state law protecting retailers from being held liable for failure to warn if they are in compliance with federal regulations applies to these claims. 
April 2023 
Judge Cote tasked plaintiffs' representatives with drafting an example of what they believe the acetaminophen warning labels should have said. She has also requested input from the FDA on this topic. Judge Cote also rejected Johnson & Johnson's motion to dismiss, marking the third time that the preemption argument has failed. The judge found that companies like Walmart and J&J were not prohibited from providing additional warnings on their labels by federal law, hence their argument was insufficient.
March 2023 Update 
Johnson & Johnson, the makers of Tylenol, have filed a motion to dismiss based on the same preemption argument previously made by Walmart. Judge Cote has also approved a Plaintiff Fact Sheet to efficiently collect pertinent information from all plaintiffs in the Tylenol autism MDL. 
January 2023 Update 
Judge Cote has appointed an experienced Special Master to assist her in the Tylenol autism MDL. The Special Master will facilitate and organize the collection of data from the plaintiffs. Judge Cote has also established protocols for beginning the discovery process, which will first examine the scientific evidence demonstrating a connection between prenatal acetaminophen exposure and neurodevelopmental disorders like ASD and ADHD. 
December 2022 Update 
Walmart has made two attempts to have the acetaminophen autism claims dismissed on the basis of preemption. Their representatives argue that the company followed federal law in regard to the content of their warning labels, which supersedes state regulations, so they should not be held liable. The first motion was quickly dismissed by Judge Cote, and the second is likely to be similarly rejected. Judge Cote is also working to expedite the claims process, permitting direct filing for new cases and employing the use of a short form complaint. 
October 2022 Update 
Tylenol autism lawsuit Plaintiffs were successful in their motion to consolidate their Tylenol autism claims into a class action lawsuit. The cases will be heard in the Southern District of New York under U.S. District Judge Denise Cote. Lawyers will have the opportunity to apply for the Plaintiffs' Leadership Committee (PLC) or the Retailer Liaison Committee (RLC) for the defense. 
September 2022 Update 
A motion to consolidate just over twenty (20) Tylenol autism lawsuits will be heard on September 29, 2022, by the Judicial Panel of Multidistrict Litigation (JPML). The plaintiff lawyers are pushing the JPML to assign a venue in the United States Federal Court, the Northern District of California, or the Eastern District of New York. 
The defendants oppose creating a Tylenol autism MDL (Multidistrict Litigation) because plaintiffs have only filed lawsuits against the retailers and not the manufacturers. In the alternative, the defendants are pushing for a venue in the District of New Jersey, a less favorable jurisdiction for plaintiffs.
The Purpose of Creating an MDL
The purpose of an MDL is to consolidate all lawsuits filed in various Federal Courts before one Judge to increase efficient discovery and expedite the proceedings. Twenty-three (23) lawsuits have been filed that will fall within the potential Tylenol autism MDL. The assigned Judge will attempt to streamline the lawsuits, which promotes the possibility of a global settlement.
Tylenol Autism Lawsuits That Have Been Filed in Federal Court
In reviewing Tylenol autism lawsuits as of date, we have noted the most common defendants are Walgreens, CVS, Costco, Rite Aid, and Walmart. We strongly believe the Tylenol autism lawsuits may exceed 10,000 over the coming months and will become one of the biggest mass torts ever.
There May Be a Correlation Between Dosage and Risk of Autism
Studies have suggested a correlation between the risk of childhood autism spectrum disorder and factors such as dosage, timing, and length of acetaminophen exposure. Some studies indicate small doses of Tylenol during pregnancy are safe and do not increase a child's risk of developing neurological disorders, while larger doses correlate to an increased risk of autism spectrum disorder and ADHD diagnosis.
Due to these recent revelations, many physicians no longer recommend Tylenol for pain relief during pregnancy. Many doctors have instructed pregnant women not to use Tylenol unless essential. It is difficult to ignore the growing research establishing a link between Tylenol usage and children diagnosed with autism spectrum disorder. The potential risks associated with consistent fetal exposure to acetaminophen exposure is impossible to ignore.
Manufacturers and Retailers of Acetaminophen or Tylenol Failed to Warn of Dangers
Meanwhile, drugmakers have yet to acknowledge the growing body of research demonstrating the dangers of acetaminophen exposure for fetuses, nor have they warned pregnant people about the risks associated with using acetaminophen products. Pharmaceutical companies have not issued any guidance addressing what doses of the drug are safe for consumption during pregnancy. Further, the retailers knew full well of the aforementioned risks and failed to disclose such to consumers. Retailers such as Rite Aid, Walmart, Walgreens, CVS, and Costco have made millions selling generic store brands of acetaminophen, let alone the Tylenol they sell.
Understanding Symptoms of Autism Spectrum Disorder
Autism Spectrum Disorders refer to a wide range of conditions that are considered neurological disorders and developmental disorders. The hallmark autism spectrum symptoms include:
inability to maintain eye contact or avoid it altogether
difficulty picking up on or interpreting social cues
growing upset by small changes in routines or rules
being more or less sensitive to sensory inputs such as sound, light, texture, and temperature
difficulty in adjusting one's behavior to fit a social situation
inability to express emotions
becoming anxious in social situations and withdrawing into their own world
As diagnostic criteria have improved and adapted to include variations in presentation, rates of autism have increased in the U.S. This has also been attributed to the lessening, albeit persistent, stigma surrounding mental health conditions and the closing of the racial disparity in diagnoses. Research from the CDC indicates that approximately 5,437,988 adults in the U.S. have been diagnosed with autism, as of 2017. Autism is often associated with other mental health conditions, including ADHD, OCD, anxiety, depression, and bipolar disorder.
Attention Deficit Hyperactivity Disorder is Also Linked to Prenatal Exposure to Tylenol 
More commonly known as ADHD, Attention-Deficit Hyperactivity Disorder is considered a neurological and neurodevelopmental disorder that impacts over 6 million children in the U.S. The average age of diagnosis is 7 years old, but diagnosis can be delayed significantly depending on intellectual ability, sex, ethnicity, and other factors. Although it was once thought that individuals with ADHD outgrew the diagnosis, it is now known that symptoms often persist throughout adulthood. 
Historically, it has been more prevalent among men and boys, though a better understanding of the range of presentations has increased the diagnosis rate for women and girls. There are now three recognized presentations of ADHD. Traditionally, the hyperactive expression was synonymous with the condition, but researchers have since identified inattentive and combination presentations. ADHD impedes an individual's ability to stay on task and control overall behavior
Symptoms of ADHD include:
regularly squirming or fidgeting
routinely losing items or objects
forgetting information that they were told
difficulty resisting temptation
inability to wait one turn
regularly daydreaming
taking unnecessary risks
Like autism, ADHD is often co-morbid with other mental health issues, such as depression and anxiety. Individuals with ADHD can benefit from therapy and medication, though the condition is
chronic.
Types of Damages Available in a Tylenol Autism Lawsuit
Neurodevelopmental disorders like autism and ADHD often produce ongoing and varied costs for neurodivergent individuals and their families. These conditions can heavily impact school and job performance, limiting an individual's career prospects and effectively costing them financially. Some people with autism require full-time care, which can entail costs for their parents in terms of taking time away from work or the expense of a professional caretaker. Financial losses can be compensated as economic damages.
Individuals with neurodevelopmental disorders like autism may also find it more difficult to socialize with others, which can reduce their quality of life and lead to feelings of isolation. It is also common for neurodivergent individuals to require accommodations or risk being excluded
from certain activities due to sensory issues, ostracizing them further in either scenario. The intangible and emotional costs of navigating autism or ADHD can be compensated as non-economic damages in a Tylenol autism lawsuit. Examples of damages include:
● Medical bills for medication and therapy
● Reduced earning potential
● Pain and suffering
● Loss of quality of life
How Much Can You Recover in a Tylenol Autism Lawsuit
The Tylenol autism lawsuits are not a monolith, as plaintiffs have experienced varying levels of damages. The value of a plaintiff's damages is considered in the context of their individual lifestyle, career, health, and needs, so there is no standard settlement amount. Further, neurodevelopmental conditions like autism and ADHD can have diverse presentations, and therefore impact plaintiffs' finances, quality of life, and physical health differently.
While it is too soon to provide definitive answers on likely settlement values, we can offer insight into what we anticipate plaintiffs may recover based on our prior experience. The Tylenol autism claims are being considered as a multidistrict litigation, so plaintiffs can recover compensation based on their individual damages rather than a portion of a single settlement divided equally amongst plaintiffs. Given the size of the multidistrict litigation, it would not be unprecedented for claims to be grouped based on severity of injury, and then awarded damages within a corresponding range.
Determining Damages Based on Individual Plaintiffs' Experience With
Autism
Autism is often conceptualized as a spectrum, though it is usually more accurate to say that an individual's support needs vary by area and context. For logistical purposes, a highly simplified
understanding may be applied to divide plaintiffs into groups. We anticipate that plaintiffs who fall into the Level 1 category may recover between $50,000 and $225,000. This would include plaintiffs with the lowest support needs for autism, as well as ADHD claims. Level 2 plaintiffs
could recover $250,000 and $500,000 to offset the cost of their greater support needs. With a Level 3 classification, plaintiffs who require significant care could receive well over $500,000
based on our preliminary estimates.
Keep in mind that autism and ADHD are life-long conditions, so any damages would be intended to compensate them for the ongoing costs of care, reduced earning capacity, and diminished quality of life. The Tylenol autism plaintiffs' ability to recover compensation will depend heavily on whether or not the evidence used to link prenatal acetaminophen exposure
to neurodevelopmental disorders is deemed credible and allows them to meet the burden of proof to establish the drug manufacturers' liability.
Who Qualifies for a Tylenol Autism Lawsuit?
If you took Tylenol or another acetaminophen product while you were expecting — especially at high doses or for an extended period — and your child later developed ASD, you could qualify for a civil lawsuit against the drug manufacturer for failing to warn consumers about the risks associated with using their product while pregnant.
Through a Tylenol autism lawsuit, you may be able to seek compensation for medical expenses, mental healthcare expenses, permanent disability costs, physical and emotional pain and suffering, loss of enjoyment of life, and other losses.
The Main Qualifying Issues for Tylenol Autism Lawsuit
mother took Tylenol or generic acetaminophen while pregnant
the mother was not taking acetaminophen or Tylenol against the advice of a health professional
the child sustained fetal exposure to Tylenol or generic acetaminophen
the child was subsequently diagnosed with an autism spectrum disorder. Participates or participates in an individual education program (IEP). Or even an autism early intervention program
Issues That Will Disqualify the Individual From The Autism ADHD Lawsuit
the mother drank alcohol or used illicit drugs during pregnancy
the mother took one or more selective serotonin reuptake inhibitors (SSRI) during pregnancy
the mother used tobacco products during pregnancy.
the father was over 45 years old when the child was born
the mother was over 40 years old when the child was born
either parent of the child was diagnosed with autism
if the child is now older than 18 years of age
if the child was born after March 26, 2020
the child was diagnosed with Down syndrome, Tourette syndrome, or Fragile X syndrome.
The Medications a Mother Must Have Taken to Qualify
generic acetaminophen
Tylenol
Generic Paracetamol
Excedrin
Mucinex
Dayquil
Nyquil
Alka-Seltzer Plus
Robitussin
Am I Eligible for a Lawsuit if I Used Generic Acetaminophen?
Many pregnant people take generic acetaminophen, which tends to be cheaper than the brand-name product. Regardless of the type of acetaminophen you took during pregnancy, you could still be eligible for a lawsuit against the manufacturer if your child was diagnosed with autism. Thus, if you used generic acetaminophen, our Tylenol autism lawyers want to speak with you immediately.
What Evidence Could Be Used to Prove Tylenol Use During Pregnancy?
Various types of evidence could be used to prove that you used Tylenol while you were expecting. For example, if your PCP or OB-GYN recommended Tylenol for pain relief, this might be noted somewhere in your medical records. You could also use bank statements, credit card bills, and purchase receipts to show that you used Tylenol or a generic acetaminophen product during pregnancy.
Medical records confirming that your child was diagnosed with autism will likely be required to prove your case. Obtaining testimony from your child's psychiatrist regarding their condition may also be beneficial. Our attorneys can help you gather the necessary documentation and testimony to bring the strongest case against the drugmaker.
How a Tylenol Autism Attorney Can Help Your Case
Personal injury attorneys have the qualifications and resources necessary to mount a viable claim against negligent manufacturers and retailers in the Tylenol autism lawsuits. Cases like these require a considerable time investment that most plaintiffs do not have the capacity to offer, but a Tylenol autism attorney and their staff can provide. A personal injury attorney will also be better equipped to face the multi-billion dollar corporations named in the Tylenol autism claims, as they are bound to have highly capable legal teams. 
The success of the Tylenol autism claims will likely hinge on whether or not the scientific studies connecting neurodevelopmental disorders and exposure to acetaminophen in utero are accepted as evidence that the defendants failed to warn plaintiffs about the risks of their products. A Tylenol autism attorney will thoroughly research the scientific basis of the claims, the defendants' legal responsibilities, and the implications of relevant federal and state laws. 
Additionally, a Tylenol autism lawyer will be able to devote their attention to identifying, recording, and evaluating your damages. As a plaintiff, you may not even be aware of the full extent of the damages available to you, or be unfamiliar with how to quantify their monetary value. With an experienced Tylenol autism attorney representing your case, you can focus on caring for your child's needs or taking steps to secure the support you need with the confidence that your rights will be protected.
Contact a Tylenol Autism Lawsuit Attorney
Manufacturers of acetaminophen-based drugs have financially benefitted from failing to warn expecting parents about the dangers of their products. As studies continue to find new support for a link between prenatal acetaminophen exposure and neurodevelopmental disorders like autism, our team at Hatch & Rose is working diligently to secure compensation for these individuals and their families.At Hach & Rose, LLP, our New York Tylenol autism lawyers review Tylenol autism claims. If your child was diagnosed with autism after exposure to Tylenol or generic acetaminophen in the womb, contact one of our attorneys for a free consultation to discuss your potential Tylenol autism ADHD lawsuit. Our law firm has the financial resources to handle any sized corporate defendant. For more information on the Tylenol lawsuit, call us today.
Personal Injury Attorney Testimonials
What Our Clients Say About the Attorneys at Hach & Rose, LLP
"
Excellent lawyers! Top notch!!!
- Becca
"
"
Great lawfirm, with some truly amazing people working. Treat you like family even if that means tough love sometimes. Honest, professional, and thorough. I'll be back if ever needed.
- Thomas Badzio
"
"
I have worked with Ms. Constance Cooper on a number of cases and I have quite literally never met an attorney who gets as invested in a case as Ms. Cooper. She is passionate about getting her clients exactly what they deserve and is willing to put in any amount of time, effort, and research to ensure a case is handled not just with professionalism, but with perfection.
- Katryna Spearman
"
"
Hello folks, I hire this company in 2021 but because It was a hit and run which the company had to find the person (thank goodness I took a picture of the car plate) who did this and everything else it took time. The staff were prompt kept me informed on what was going on with my case. Mr. Rose personally called me quite often within the time frame to advise on the stages of my case which was favorable. I would highly recommended this company for representation you will not be disappointed!
- Carmen Horton
"
"
- Ronit Levin Delgado
"
"
- Different DEP Management, LLC
"
"
Amazing group. Will fight for you.
- Jennifer C
"
"
Great Service, Recommended.
- Pedro Caquias
"
"
A Very Great Law Firm Thank You "Jon Connery"
- Alex Phill
"
"
Everything was handled incredibly professionally and all expectations were more than exceeded.
- Justin Parker
"
"
Had the greatest experience with these guys. They're honest lawyers, a rare find in NYC.
- J Rozen
"
"
GREAT LAWYERS they REALLY work for they're clients. Would HIGHLY RECOMMEND for anyone who needs representation.
- DYCKMAN DREW
"
"
Helpful during the entire process, and Very informative. Helped through entire process and answered any questions I had!
- Alejandro Echeverri
"
"
This law firm is the best they are customer service oriented, they treat their clients like gold
- Lani Lapkin
"
"
I will keep it simple ,great law firm, I truly recommend them,
- pat fludd
"
"
Mike Rose is a very trustworthy person. Can't think of anybody I'd prefer to represent me.
- Marc DeGirolami
"
"
Hach and Rose was very professional in helping me handle my legal issues. Nothing was ever too difficult for them. Thanks guys!
- Stefanie Settle
"
"
Hach and Rose was very professional in helping me handle my legal issues. Nothing was ever too difficult for them. Thanks guys!
- Stefanie Settle
"
"
unbelievable team of lawyers who made my settlement as easy and smooth as possible. I definitely would recommend this firm.
- Steven Medina
"
"
Very nice people to deal with and Dave was very easy to work with he did a great job on my case.
- greg jardine
"
"
Wonderful staff! Really respectful, nice, and honest attorneys. The waiting room always smells amazing!
- Marianna Krupitsky
"
"
Professional, Caring and Honest David Chevri was my Lawyer and at no point did he not answer my questions or concerns I would highly Recommend Hach & Rose to anyone
- daniel moore
"
"
Michael and his team are amazing! They helped me in the best way possible. Thank you!
- Edwin Gallegos
"
"
best decision picking hach &rose to represent they got me the money that i deserve and they stood on top of my case.i would recommend anyone to use Hach&Rose
- Brandy Bonilla
"
"
I WAS SO HAPPY WITH HATCH & ROSE, LLP !!! THEY MADE IT EASY TO COMMUNICATE WITH, IF I HAD A QUESTION OR NEEDED TO GET IN TOUCH WITH THEM THEY WERE RIGHT THERE EVERY TIME !! THEY MADE THE WHOLE EXPERIENCE SMOOTH. THE BEST , PLEASE GIVE THEM A CHANCE YOU WILL NOT BE UPSET.
- LUKE CACCAVO
"
"
Hach and Rose was very helpful to my family. They were very repsonsive whenever we needed them. i couldn't recommend them more
- Sam Ptashnik
"
"
My Family and I, have found Hach & Rose to be very professional, and responsive in their assessment , showing great care and concern.
- Cheryl Williams
"
"
Amazing was able to close my case before trial and got me more than I wanted.
- Alliance Appearances
"
"
Hack and Rose .the best in every way!!!!!! My brothers for life. Sfc. Perry f. Marchigiani. 221 Dunwoodie st Yonkers New York 10704 914/760/3670 thank you to all at Hack and Rose
- 75thrangersabn
"
"
I wanted to stop and take the time to say Thank You For Handling My Case with Care. I truly appreciate the time put into my case and I appreciate you all being patient with me throughout the process.
- jahdae Armstrong
"
"
All I can say is Mr Rose and his entire team are amazing. I never had to worry about are things being handled properly or have any doubts in their ability in handling my case.
- CT BDP
"
"
Had the pleasure of meeting George..he is a true gentleman....Dania is one of the paralegals here and I must say she is so professional and delightful... Highly recommend to anyone who might need representation.
- James Jackson
"