New York Brain Injury Lawyers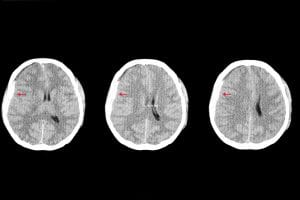 Suffering trauma to the head can have devastating consequences for the victim and their family. Of all the injures that can result from accidents, brain injuries are particularly catastrophic. Known as traumatic brain injuries, or TBIs, the potential range of harm is wide. TBIs can occur from construction site, car, bicycle, motorcycle, or pedestrian accidents, slips, trips, and falls, and many other personal injury incidents. Unfortunately, sometimes there is only so much that doctors can do to diagnose and treat a severe TBI. Brain injury victims, in many cases, deal with problems and complications for the rest of their lives.
At Hach & Rose, LLP, our skilled and compassionate New York brain injury attorneys work closely with medical experts to understand the seriousness of the injuries and to overcome any challenges to recovering compensation. Since our firm's founding two decades ago, we have recovered more than $400 million in verdicts and settlements for injured clients, including some seven and eight figure awards for traumatic brain injury victims.
Most people, including attorneys, do not understand that brain injuries are not visible. A person with a brain injury can look perfectly healthy. It takes an attorney who has a full understanding of the complexities of a brain injury to explain it properly to juries, insurance companies, and people who defend lawsuits. An injured person deserves an attorney with expertise in traumatic brain injury cases to receive maximum compensation for their injury. If you or a loved one has suffered a TBI through no fault of your own, you can rely on the committed personal injury lawyers of Hach & Rose, LLP to build a strong case for the maximum compensation you deserve. Call us today at (212) 779-0057 to schedule a free and confidential consultation so we can discuss your legal options.
What is a Traumatic Brain Injury (TBI)?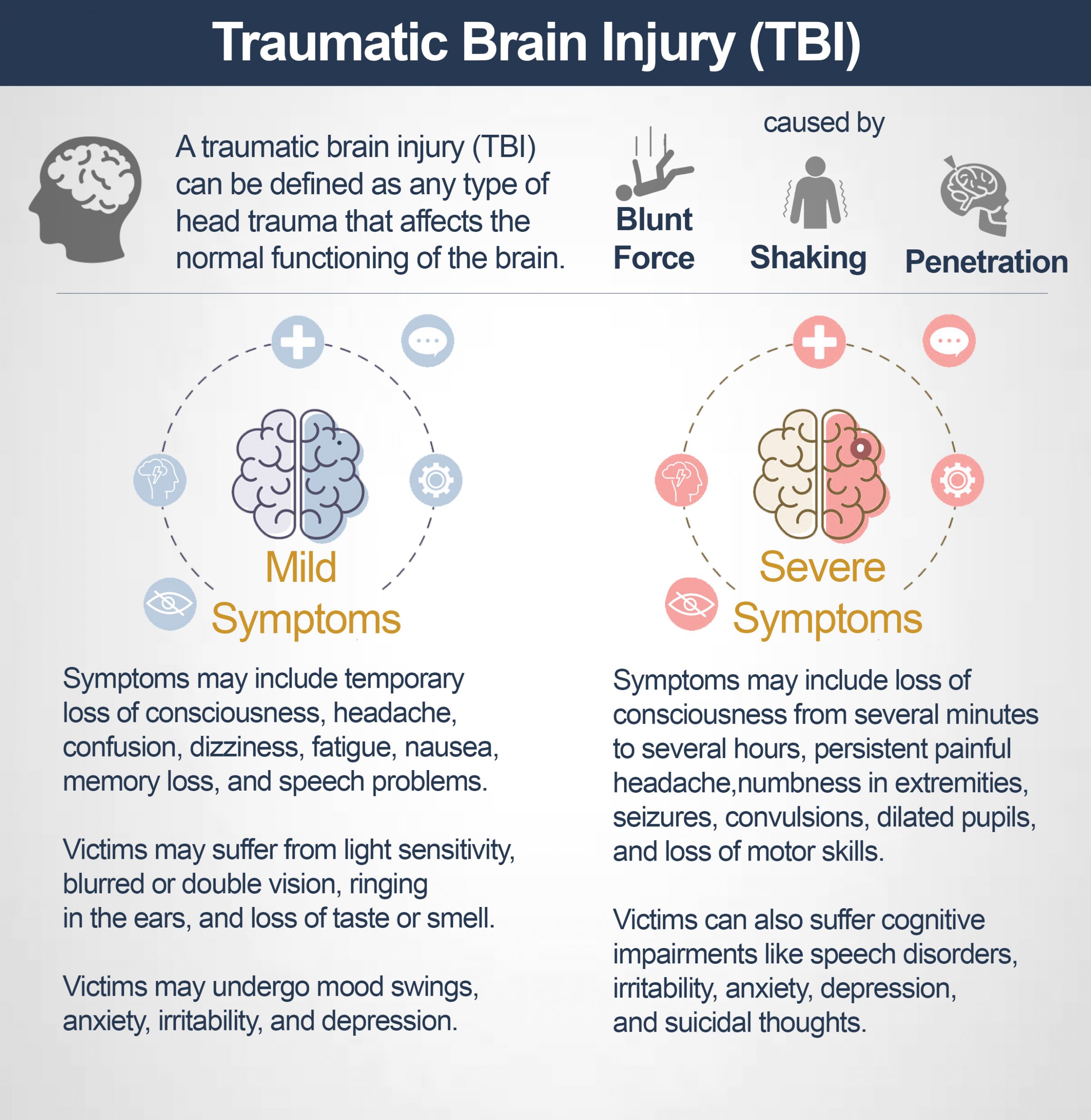 A traumatic brain injury (TBI) can be defined as any type of head trauma that affects the normal functioning of the brain. TBIs can range from minor to severe, depending on the level of damage to the brain. A TBI can be caused by:
Blunt force – Blunt force trauma can cause bruising or bleeding of the brain. A hard blow to the head can cause a coup-contrecoup injury, a type of non-penetrative TBI where the brain hits both sides of the inside of the skull.
Shaking – Violent shaking can cause a coup-contrecoup injury or damage brain tissue.
Penetration – An object penetrates the skull, destroying brain tissue and causing the brain to bleed.
While victims who suffer a mild TBI could make a full recovery, those with moderate TBIs may require a variety of therapies. Severe TBI victims can be permanently disabled.
Hach & Rose, LLP Working for You
Traumatic brain injuries can cost victims tens of thousands of dollars throughout the impairment. The medical bills for treatment, medication, rehabilitation, and more can pile up quickly. Hach & Rose, LLP has a team of highly skilled and experienced New York personal injury lawyers who are ready to get to work on your TBI case. We will fight tirelessly to make sure that you receive the full and fair compensation you deserve.
Accidents involving brain injuries are often among the most complex personal injury cases. The last thing you want to do is try to handle your injury claim alone. Allow a lawyer who is well-versed in brain injuries to take care of every aspect of your case so you can focus on what's most important: your recovery.
Hach & Rose, LLP considers it a privilege to be relied upon as attorneys when people need it most. We recognize that each and every client has only one chance to be compensated after their injury. While no two brain injury cases are alike, and past successes are no guarantee of future recovery, we have extensive experience handling TBI cases, including:
$13,000,000 — Jury verdict obtained on behalf of a painter who fell from a ladder and sustained a traumatic brain injury.
$4,200,000 — Settlement for person with traumatic brain injury on defective premises.
$800,000 — For a construction worker who was injured by a falling object and suffered a traumatic brain injury.
$600,000 — Settlement for nurse who suffered brain injury when struck by motor vehicle.
What are the medically recognized types and severity levels?
TBIs generally fall into three different categories: mild, moderate, and severe. Even brain injuries that are considered as "mild" can result in serious challenges and difficulties.
While the signs and symptoms of TBIs vary greatly depending on the severity, they may include any of the following:
Loss of consciousness
Headache
Dizziness
Coordination problems
Fatigue
Confusion
Short-term memory loss
Poor concentration
Vomiting and nausea
Paralysis
Coma
Dilated pupils
Blurred vision or seeing double
Cognitive difficulties
Ringing in the ears
Difficulty speaking
Slow pulse
Difficulty swallowing
Numbness or tingling
Droopy eyelids
Loss of bowel control
Depression
Anxiety
Irritability
How is TBI diagnosed?
All TBIs, no matter the level of severity, require immediate assessment by a medical professional. A neurological exam will assess motor and sensory skills, test the functioning of the cranial nerves, as well as hearing, speech, coordination, changes in behavior, among other abilities.
When necessary, medical professionals will perform brain scans to evaluate the extent of the TBI and determine if surgery will be needed to repair damage to the brain. Computed tomography (CT) scans are the most common technology used to assess people with moderate to severe TBI. CT scans create a series of x-ray images of the skull and brain and can show fractures, hemorrhage, contusions, brain tissue swelling, among other conditions.
Magnetic resonance imaging (MRI) can be used after the initial assessment. An MRI is a more sensitive test that can pick up subtle changes in the brain.
Can brain injury symptoms develop over time?
When you suffer a TBI, your brain begins working immediately to repair the damage. Some of these restorative processes are effective, especially when combined with treatment. The physical symptoms of a TBI can be short-lived, and the brain may ultimately return to normal functioning. However, some areas of the brain cannot be repaired, or they may decline over time, resulting in long-term or even lifelong damage.
Some TBI victims experience a delayed onset of symptoms. There are also social and emotional difficulties that affect TBI patients in the years following an injury as well. Victims with moderate to severe TBI can have a number of physical issues that can last for years or even the rest of their lives.
While frequent headaches are a common symptom shortly after the TBI, studies have shown that headaches may develop and even worsen over time. Dizziness and lightheadedness can manifest as symptoms for TBI as well. Sensitivity to light and noise have been shown to develop as new symptoms within the first three years. Other eye-related complications include blurry or double vision. These symptoms have been found in TBI victims years after the injury.
The more severe the TBI, the more likely an individual will experience worsening fatigue following the injury. The continued feeling of fatigue can lead to emotional symptoms and insomnia, as well as having a negative effect on job performance. Some TBI sufferers have late-stage seizures. Sustained seizure disorders can also become a permanent problem for those with TBI.
In addition to these physical issues that develop over time, there are numerous emotional and psychological complications, including but not limited to:
Difficulty sleeping
Inability to focus and concentrate
Anxiety and depression
Aggression and irritability
Common accidents that result in TBIs
A TBI can result from a wide array of accidents and personal injuries. Common causes include:
Construction accidents
Car accidents
Truck accidents
Motorcycle accidents
Pedestrian accidents
Bicycle accidents
Workplace accidents
Swimming accidents
Slips, trips, and falls
Defective products
Dog attacks
Medical malpractice
Birth injuries
Exposure to toxins
If you have sustained a TBI, Hach & Rose, LLP can help you with your recovery. We take your medical treatment very seriously. Our attorneys will ensure that you get the treatment you need to help you recover.
Treatment options for TBI
If you have suffered a TBI, beginning medical treatment as soon as possible gives you the best chance for a full recovery. Treatment options vary depending on the severity of your TBI. The mildest brain injuries can typically be treated with over-the-counter medications like Advil and Tylenol and rest. However, it's very important that you watch closely for any symptoms that may worsen with time. If you notice your symptoms getting worse, see a physician as soon as possible.
Common medical treatments for TBI may include:
Emergency medical treatment
X-rays, CT scans, and MRIs
Surgery
Rehabilitation
Medication
Ongoing care and counseling
Impact a TBI can have on someone's life
Moderate to severe TBI can cause permanent physical or mental disability. Many TBI victims who appear to recover fully may have some lifelong symptoms. Completing tasks at home and at work that were once routine can be much more difficult after suffering a TBI. Some TBI victims find that the skills that they used before to meet everyday challenges are not as sharp as they were before.
The challenges that come with the effects of TBI can also affect the victim's personal life. TBI victims may take longer to do tasks associated with memory, such as placing an order at a restaurant. Family relationships will most likely change, too. Some TBI victims become totally dependent on caregivers to make it through the day. In short, moderate to severe TBI is very often a life-changing injury for many victims.
Determining Liability
If you have suffered TBI, one or more of the liable parties may be held responsible for the damages you have endured. In many brain injury cases, victims are entitled to receive compensation for past and present medical bills, rehabilitation, lost wages, reduced earning capacity, pain and suffering, and more. Large brain injury settlements and court awards are won every year for those whose physical and mental abilities have been impaired through no fault of their own. It's critical to have an experienced personal injury attorney to represent you.
After an accident that causes a TBI, victims may have the right to file a personal injury claim against the liable party. Depending on the circumstances of the accident and parties involved, you should have up to three years from the date of your accident to file your injury claim, according to New York's statute of limitations. First, your attorney must identify the responsible parties and assess liability. The liable party will be the party who:
Owed you a duty of care
Breached that duty of care
Caused your accident and subsequent brain injury