New York City Train Accident Lawyers
Like the millions of New York City residents who take trains to and from work daily, the New York City train accident attorneys at Hach & Rose, LLP, knows the deadly consequences that train accidents pose. Due to the immense size, power, and speed of this form of transportation, even a minor accident can result in serious injuries for hundreds of people.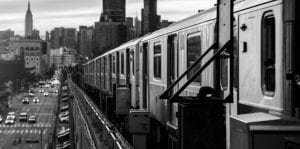 When you board a public transportation system like the millions of New York City locals who take the train every day, you have the reasonable expectation that the safety of you and the other passengers are in reliable hands. Unfortunately, this is not always the case. Even a minor accident involving a train can have devastating consequences for hundreds of passengers. Train companies are responsible for repairing the tracks, properly training employees, maintaining the train, and other important responsibilities that ensure the safety of the passengers.
The New York City train accident attorneys at Hach & Rose, LLP, know that people are often injured due to the negligence of the train company, whether in maintaining the train, the tracks, responsibly training the driver, or other factors. In these circumstances, the victims and their families deserve justice and fair compensation for their injuries and other damages, and we are there to help them get it. Contact us at (212) 779-0057, fill out a contact form on our site, or chat with us live today.
Why Choose Hach & Rose, LLP
The train companies have ample resources to fight against personal injury claims, with attorneys and insurance companies supporting their argument. Their priority is to protect their profits over anything else, and they will do their best to fight any claim made against them. It is critical that you retain legal counsel from a knowledgeable firm that has the experience it takes to hold transportation companies accountable. Our team has over 100 years of combined legal insight, and we have secured over $250 million in verdicts and settlements for our clients. This is one of the major reasons people turn to Hach & Rose, LLP when they need help, and we are ready to help you. Chat with us through our website now or call us at (212) 779-0057 so we can get started defending your rights and pursuing justice on your behalf.
Getting Compensation for the Damage Caused by Train Accidents
Whether a victim of a train accident has suffered a relatively minor injury, such as whiplash or lacerations, sustained a disabling injury, or lost a loved one, the consequences of a train accident are usually far-reaching. As such, victims of these accidents are often able to pursue compensation for the following:
Medical bills
Rehabilitation expenses
Lost wages
Loss of companionship
Emotional trauma
Funeral cost
Punitive costs
At Hach & Rose, LLP, we understand how difficult it can be to recover from the aftermath of a train accident and believe that you shouldn't have to do so alone. With our help, you can make sure you focus on you and your family's recovery, while we take the steps necessary to hold those responsible for the accident accountable.
The Types of Cases We Handle
When the train companies abandon their responsibilities to provide their passengers with a safe journey, it jeopardizes everyone. The energy it requires to move a train down the tracks is enormous, especially when it is packed with passengers, and when an accident occurs, that energy is released into the surrounding environment. As a result, serious injuries and fatalities arise, and it not only affects you but your loved ones as well. We have successfully fought for our clients after they suffered from train accidents for the following reasons:
When a train derails, it is often either the product of mechanical failure or human error. Unfortunately, when they happen, they can cause catastrophic injuries and extensive property damage. According to the Federal Railroad Administration, the most common cause of train derailments is human negligence (29%). Following that, broken rails and welds account for 15% of all train derailments.
Following a train derailment, the cause of the accident must be investigated and determined. If it turns out that the train company or another entity was negligent in the inspection, maintenance, or operation of the train, injured parties may be eligible to collect compensation. This compensation is designed to reimburse the injured parties for their medical expenses and other costs associated with the accident. Also, severe injuries may warrant additional damages, like compensation for pain, suffering, and mental anguish. All of these options may be on the table for you, so contact a New York train accident attorney to discuss your potential injury claim today.
Operating a train requires attention and awareness. Operators have the safety of their passengers in their hands, and they should not take that task lightly. There are many ways an error can happen when operating a train, but the three most common errors are signal passing, train speed, and signaling or dispatching.
If the train operator fails to conduct themselves responsibly, they are putting people's lives at risk. If an accident occurs, injured individuals might be eligible to file a personal injury claim. If someone dies in an accident caused by operator error, the family of the deceased could file a wrongful death claim against the train company.
Train companies and operators are considered "common carriers." Common carriers are entities that transport goods or people, and they are held to a higher standard of care. Train companies and operators have a legal duty to ensure the safety of their passengers and make sure that they reach their destination safely. If you are hurt in an accident caused by operator error, the train company can be held liable for their negligence. Common carriers are responsible for injuries that occur during transportation if the injuries resulted could have been prevented by using greater care.
After a train accident caused by a mechanical failure, it is important to seek out legal counsel. In the aftermath of a serious accident, it may not be immediately clear who is responsible. Was it caused by a defective part or system? Was it caused by improper maintenance on the part of the train company? Only a thorough investigation by an experienced New York City train mechanical failure lawyer will do. You have the right to seek fair compensation for an accident that was not your fault. We are ready to help you get the compensation you are entitled to.
Mechanical failures are one of the leading causes of train accidents. According to the Federal Railroad Administration Office of Safety Analysis, the most common types of mechanical failures include the following:
Container improperly secured on a flatcar
Brake malfunction
Failure of track components
Wheels breaking down
Signals working improperly
Faulty communication equipment
General engine failure
When you are injured in a train accident caused by a mechanical failure, it is important to contact an attorney immediately. Your lawyer will conduct an investigation to find out why that mechanical failure happened. Railroad companies may not want to admit any fault, but an attorney can help you discover the truth through a thorough investigation.
Falling off of a train platform is extremely dangerous, and the accident can leave the victim and their family reeling as they try to deal with injuries, the stress of accumulating medical bills, lost time at work, and lost time with family and loved ones. A fall off a train platform can lead to very serious injuries, including broken bones, head trauma, spine and neck trauma, severe bruising, and torn ligaments, among other things. In some cases, the victim may even have to cope with amputation and its complications.
Alarmingly, it is not uncommon for people in New York to fall from train platforms, and when these accidents occur, the consequences can be dire. People falling from the platform can be seriously injured or even killed. Sadly, in many instances, an individual falling off a train platform could have been prevented if another party not been negligent. If you or someone you love has fallen from the train platform, you should not have to deal with the injuries, pain, and suffering on your own. To get help, call the train accident attorneys of Hach & Rose, LLP today at (212) 779-0057 for a free consultation.
Train collisions with other vehicles occur more frequently than most people would like to think. These types of accidents can have drastic consequences, as the sheer weight and size of a train can deliver a tremendous and deadly impact, especially when colliding with a passenger vehicle. Additionally, there are more potential victims in a train collision with a vehicle, including the vehicle driver and its passengers, the passengers on the train, the train crew, and any innocent bystanders. When a train and vehicle collide, it is more than likely that the accident occurred as a result of some party's negligence.
Trains can collide with vehicles for a variety of reasons, each of which may change who was at fault for causing the accident. In many instances, the fault may not be clear, and liability may be shared between multiple parties. New York train accident attorneys are trained to determine exactly who is responsible for causing the accident.
Train accidents can have dire consequences because the massive size and weight of the train make them difficult, if not impossible, to control in an emergency situation. Many considerations factor into operating trains safely, including the proper maintenance and functionality of the train itself and the proper and safe maintenance of the train tracks. Frighteningly, many train accidents occur because train tracks are poorly maintained or even defective. A train traveling at full speed that hits a patch of poorly maintained track can lose control and crash without any notice, subjecting the crew and passengers to very serious injuries and sometimes even death. In many instances, train crashes caused by poorly maintained tracks are the result of some party's negligence. If you or a loved one was the victim in a train accident caused by poorly maintained tracks, you may be entitled to compensation.
If you were in a train accident caused by poorly maintained tracks, a number of parties may be liable for any damages resulting from the accident. In many cases, different private companies own different stretches of railway track. These companies are charged with the responsibility of maintaining the track they own and ensuring that it is safe for all to use. If a company fails in their duty to properly maintain their railway track, they may have been negligent and may be liable for any injuries resulting from accidents. In some instances, the government owns the track and is responsible for track maintenance. Another liable party may be the company that manufactured the pieces of the track.
Knowing how to proceed with a legal claim if you have been the victim of a train accident caused by a poorly maintained or defective track, can be incredibly confusing and frustrating. Federal laws sometimes limit who can be sued and for what damages companies may be held liable. Since proving a negligence case can be complex, it is best left to experienced attorneys, like those at Hach & Rose, LLP.
While any roadway intersection poses risks, unprotected railroad intersections pose a unique risk for drivers due to the lack of warning when the intersection is not appropriately "protected." However, the party or parties involved in the accident will often try to put the blame on you and prevent you from obtaining the compensation you rightly deserve. This is where having an attorney is critical.
In cases involving unprotected railroad intersections, there are many variables which are taken into consideration when considering the amount of compensation that might be owed by the responsible party. Depending on the nature or underlying cause of the accident, the responding parties in a multiple party suit may even fight amongst themselves to put the blame on each other. This confusion can then lead to missteps which will lead to costly errors, ultimately preventing or diminishing your ability to recover full compensation. Hiring an attorney who knows this area of law and these types of claims will help you put your best case forward and get the results you deserve.
At Hach & Rose, LLP we have extensive experience with train accident claims. We know this area of law well and assure you that your interests will be well-represented and protected. From investigation to final judgment or settlement, we will handle your case with the utmost care and professionalism. The years of experience we have in handling these claims will result in your claim being expertly handled, so you can see the results you deserve. Our resources allow us to fully investigate your claim, talk with all of the parties involved in your unprotected railroad intersection accident, and fight so you do not have to. Allow us to handle what we do best: train accident litigation.
Today, most trains run on electricity rather than steam. Electric trains require an additional rail on the track with power running through it, commonly referred to as the third rail. There are 625 volts of electricity traveling through the third rail in the New York subway system. The most common type of injury resulting from an electric shock is burns located where the person's body came in contact with the electricity. Other injuries may occur as the result of involuntarily contracted muscles, such as bruising and broken bones. Experiencing an electric shock puts a person at high risk of seizure or even cardiac arrest. These injuries may also result in death. Long-term symptoms include sore muscles, headaches, poor balance and coordination, and nerve damage. Electricity can also cause damage to your internal organs. These injuries often go unnoticed because victims walk away from electric shocks with no pain to indicate any internal damage.
The road to recovery after an electric shock from high power train tracks has many difficult obstacles such as rude insurance agents, unsympathetic train or railroad company representatives, and several medical appointments to attend. Hach & Rose, LLP knows the ins and outs of fighting for your rights against the railroad company.
Proving insufficient security resulted in an assault against you, as a passenger, is a complex undertaking. Recovering what is owed to you by the responsible party can be overwhelming. While it may only seem logical that poor security was what permitted the assault against you, the opposing parties will rework the situation to create doubt as to that reality. They may allege that, even with the strongest security, the assault would have still occurred due to the assailant's desire to commit the crime. The parties may try to shift responsibility to other potential parties, including you, rather than accept responsibility for the assault you suffered. The opposing counsel may also try to mitigate your damages by picking apart your medical bills and history – ultimately trying to show that your injuries were not a result of the assault incident.
To effectively counter these arguments, you should hire your own legal representation. Doing so will ensure your best interests are protected. Trying to hack a personal injury case of this sort alone will likely result in getting less than you are owed. Calling one of our attorneys at (212) 779-0057 as soon as you have experienced an assault is the first step to protect your rights and your interests. After an assault, your focus should be on healing and recovering, not fighting a complicated legal battle. Trust the talent at Hach & Rose, LLP to investigate your case's facts, research the issues your case raises, and get the results you need.
The path to a successful injury claim can be time-consuming and difficult, especially when fighting against powerful, established entities like train operators. It involves gathering a wide variety of information, contacting experts and witnesses, handling complex negotiations, and possibly going to court. An attorney will handle this long, complicated process for you so you can focus on what is truly important: your health, healing from your injuries, and spending time with your loved ones.
At Hach & Rose, LLP we handle all kinds of cases involving those who have been struck by a train. This may include:
Passengers hit by trains while crossing the track
Drivers of cars struck by trains
Pedestrians who have been hit by trains
Individuals pushed onto tracks by a third party and struck by trains
Individuals killed after being struck by a train (wrongful death)
Whether or not you fall into any of the above categories, if you or a loved one have been struck by a train, contact us. Our firm can help you assess your case, analyze your situation, and guide you in the right direction.
Workplace-related injury claims can be extremely complicated and time-consuming. Any case involving workplace injuries involves various processes to ensure that your claim is made correctly and efficiently. Furthermore, more than one party may be involved in the suit, which can make matters even more complex. An attorney can ensure that you file everything correctly and identify who is relevant to your lawsuit. Hiring an attorney will ensure that you are on the right track to receive what you are legally entitled to receive from your workplace related train incident.
At Hach & Rose, LLP, we have experience in injury claims resulting from work with a railway company. This may include injuries related to:
Loading and unloading equipment
Being struck by a train
Being electrocuted by the third rail of the track
Passenger aggression or altercations that could have been avoided through other workplace or employee measures
Train crashes
Unlike other industries, the railway industry's employees are not covered under typical workers' compensation laws. Rather, they are covered by a federal law called the Federal Employers Liability Act (FELA). New York subways are considered railways and, thus, this law applies to workers injured while working for subways, as well. This means that you have to be familiar with FELA to know what you can recover for after your on-the-job train accident. Contacting an experienced personal injury firm with a background in train-related injuries can guarantee the best results possible for your case as you navigate this industry-specific workers' compensation alternative.
Dealing with the loss of a loved one can seem impossible. If you lost someone close to you due to suicide, the grief can be unimaginable. If you are a surviving spouse or relative of a person who decided, tragically, to take their life by suicide on a train or train tracks, you could be eligible to take legal action for the loss you are suffering. While the cause of their death was independent of the train company's operations, the company could have been able to prevent it from happening. The same holds true if you were trying to commit suicide and survived the attempt. At Hach & Rose, LLP we have experience with sensitive cases involving suicide by train. This includes:
Suicides that have led to the death of the victim by electrocution, being struck by a train, or any other means related to the railroad.
Attempted suicides that have led to injuries being sustained and were a result of electrocution, being struck by a train, etc.
We represent both the survivors of a suicide attempt as well as the interests of the surviving relatives and spouses of those who passed away due to suicide. If your life has been changed, in one way or another, by a suicide involving a train or railway, contact our firm to discuss your case and your rights to recovery. Contact the New York train-related suicide lawyers at Hach & Rose, LLP at (212) 779-0057 to talk about what you are facing and to discuss what your rights may be to recover for the damages you are suffering.
Financial compensation may not replace what was lost in an accident involving a train, but it is an important aspect of recovering towards a better future. There are known dangers of using the New York City train system, and we refuse to let the train companies escape their duty of restitution for the families who have suffered.
Frequently Asked Questions
It's our goal to provide our clients with a sense of efficiency and quality, and we know you must have many questions following your accident. We have gathered a few questions that many of our clients ask us and provided a broad response. If you don't see your question here, or it's not sufficiently answered, contact us at (212) 779-0057.
Do I have grounds to sue after a train accident?
Many people often wonder if the individual circumstances surrounding their accident warrants a legal claim. Legal battles can seem intimidating and stressful, but with Hach & Rose, LLP you shouldn't be concerned. We will meet with you for a free consultation and review the facts surrounding your case. We will work hard on your behalf to ensure that you secure the compensation you deserve to pay for your medical bills and rebuild your life after the accident.
Is time a factor with my lawsuit?
Yes, time is a huge factor in successfully filing a claim with the court, and there are strict time limits concerning your right to file a lawsuit. If the proposed suit is filed even one day late, the court may dismiss your claims without further notice. The best plan of action is to contact an attorney right away so the responsible parties can be brought to justice.
What should I do after my accident if railroad officials asked me to sign some documents?
Do not sign any papers from the train companies until after you have spoken to an attorney. Train companies are prepared to coerce victims into waiving their rights to reasonable and just compensation after an accident involving a train. Often, the train company's goal is to limit their liability by having you sign documents that are not in your best interest. You do not have to sign anything until you have received legal advice, and it is in your best interest to have a trusted party on your side review the legal documentation before you waive your rights. Find an attorney that will take the time to review the details with you and offer a solution without charging fees up front.
What is there to gain from filing a lawsuit against a train company?
A successful personal injury claim can help recover compensation for you and your family for the pain and suffering and financial hardship that you experienced after a train accident. Hiring the right attorney can help you hold those responsible for your injuries accountable for their actions, and a dedicated attorney will fight to get you every penny you deserve. In the event of an injury or wrongful death, it is important that you find the help you need so that you don't have to deal with the aftermath alone. Medical expenses, lost wages, emotional anguish, and stress can take a heavy toll on your family, and you owe it to them to find some way to make things right again. An experienced attorney will understand how to navigate the complex legal proceedings, and they will help you find justice.
Learn How a Train Accident Attorney in New York City Can Help You
With the number of people who utilize the train system in New York City, those parties in charge of maintaining and running the trains should always act with the utmost care and responsibility. Regrettably, when they fail in this, innocent people are the ones who pay the steep price. At Hach & Rose, LLP, our accident injury lawyers believe in fighting aggressively for those who have suffered from the devastation that a train accident has wrought and have been doing so for over a decade. Whether you or a loved one was harmed in this recent tragic train accident or another, similar accident, contact us at (212) 779-0057. With an impressive history of obtaining record settlements for victims of such accidents, we have the experience, skills, and resources necessary to getting our clients the compensation and support they need.