New York City Train Accident Lawyers
Like the millions of New York City residents who take trains to and from work daily, the New York City train accident attorneys at Hach & Rose, LLP, knows the deadly consequences that train accidents pose. Due to the immense size, power, and speed of this form of transportation, even a minor accident can result in serious injuries for hundreds of people.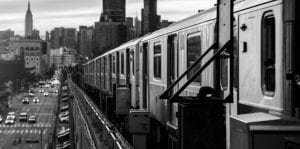 When you board a public transportation system like the millions of New York City locals who take the train every day, you have the reasonable expectation that the safety of you and the other passengers are in reliable hands. Unfortunately, this is not always the case. Even a minor accident involving a train can have devastating consequences for hundreds of passengers. Train companies are responsible for repairing the tracks, properly training employees, maintaining the train, and other important responsibilities that ensure the safety of the passengers.
The New York City train accident attorneys at Hach & Rose, LLP, know that people are often injured due to the negligence of the train company, whether in maintaining the train, the tracks, responsibly training the driver, or other factors. In these circumstances, the victims and their families deserve justice and fair compensation for their injuries and other damages, and we are there to help them get it. Contact us at (212) 779-0057, fill out a contact form on our site, or chat with us live today.
Why Choose Hach & Rose, LLP
The train companies have ample resources to fight against personal injury claims, with attorneys and insurance companies supporting their argument. Their priority is to protect their profits over anything else, and they will do their best to fight any claim made against them. It is critical that you retain legal counsel from a knowledgeable firm that has the experience it takes to hold transportation companies accountable. Our team has over 100 years of combined legal insight, and we have secured over $250 million in verdicts and settlements for our clients. This is one of the major reasons people turn to Hach & Rose, LLP when they need help, and we are ready to help you. Chat with us through our website now or call us at (212) 779-0057 so we can get started defending your rights and pursuing justice on your behalf.
Getting Compensation for the Damage Caused by Train Accidents
Whether a victim of a train accident has suffered a relatively minor injury, such as whiplash or lacerations, sustained a disabling injury, or lost a loved one, the consequences of a train accident are usually far-reaching. As such, victims of these accidents are often able to pursue compensation for the following:
Medical bills
Rehabilitation expenses
Lost wages
Loss of companionship
Emotional trauma
Funeral cost
Punitive costs
At Hach & Rose, LLP, we understand how difficult it can be to recover from the aftermath of a train accident and believe that you shouldn't have to do so alone. With our help, you can make sure you focus on you and your family's recovery, while we take the steps necessary to hold those responsible for the accident accountable.
The Types of Cases We Handle
When the train companies abandon their responsibilities to provide their passengers with a safe journey, it jeopardizes everyone. The energy it requires to move a train down the tracks is enormous, especially when it is packed with passengers, and when an accident occurs, that energy is released into the surrounding environment. As a result, serious injuries and fatalities arise, and it not only affects you but your loved ones as well. We have successfully fought for our clients after they suffered from train accidents for the following reasons:
Financial compensation may not replace what was lost in an accident involving a train, but it is an important aspect of recovering towards a better future. There are known dangers of using the New York City train system, and we refuse to let the train companies escape their duty of restitution for the families who have suffered.
Frequently Asked Questions
It's our goal to provide our clients with a sense of efficiency and quality, and we know you must have many questions following your accident. We have gathered a few questions that many of our clients ask us and provided a broad response. If you don't see your question here, or it's not sufficiently answered, contact us at (212) 779-0057.
Do I have grounds to sue after a train accident?
Many people often wonder if the individual circumstances surrounding their accident warrants a legal claim. Legal battles can seem intimidating and stressful, but with Hach & Rose, LLP you shouldn't be concerned. We will meet with you for a free consultation and review the facts surrounding your case. We will work hard on your behalf to ensure that you secure the compensation you deserve to pay for your medical bills and rebuild your life after the accident.
Is time a factor with my lawsuit?
Yes, time is a huge factor in successfully filing a claim with the court, and there are strict time limits concerning your right to file a lawsuit. If the proposed suit is filed even one day late, the court may dismiss your claims without further notice. The best plan of action is to contact an attorney right away so the responsible parties can be brought to justice.
What should I do after my accident if railroad officials asked me to sign some documents?
Do not sign any papers from the train companies until after you have spoken to an attorney. Train companies are prepared to coerce victims into waiving their rights to reasonable and just compensation after an accident involving a train. Often, the train company's goal is to limit their liability by having you sign documents that are not in your best interest. You do not have to sign anything until you have received legal advice, and it is in your best interest to have a trusted party on your side review the legal documentation before you waive your rights. Find an attorney that will take the time to review the details with you and offer a solution without charging fees up front.
What is there to gain from filing a lawsuit against a train company?
A successful personal injury claim can help recover compensation for you and your family for the pain and suffering and financial hardship that you experienced after a train accident. Hiring the right attorney can help you hold those responsible for your injuries accountable for their actions, and a dedicated attorney will fight to get you every penny you deserve. In the event of an injury or wrongful death, it is important that you find the help you need so that you don't have to deal with the aftermath alone. Medical expenses, lost wages, emotional anguish, and stress can take a heavy toll on your family, and you owe it to them to find some way to make things right again. An experienced attorney will understand how to navigate the complex legal proceedings, and they will help you find justice.
Learn How a Train Accident Attorney in New York City Can Help You
With the number of people who utilize the train system in New York City, those parties in charge of maintaining and running the trains should always act with the utmost care and responsibility. Regrettably, when they fail in this, innocent people are the ones who pay the steep price. At Hach & Rose, LLP, our accident injury lawyers believe in fighting aggressively for those who have suffered from the devastation that a train accident has wrought and have been doing so for over a decade. Whether you or a loved one was harmed in this recent tragic train accident or another, similar accident, contact us at (212) 779-0057. With an impressive history of obtaining record settlements for victims of such accidents, we have the experience, skills, and resources necessary to getting our clients the compensation and support they need.