New York Premises Liability Attorneys
If you or someone you love has been injured in an accident on another person's property, you may be entitled to seek financial compensation for your pain and suffering. Contact the New York premises liability attorneys of Hach & Rose, LLP, at (212) 779-0057 to speak with an experienced member of our legal team about your case.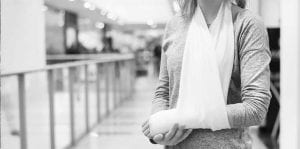 Property owners have a responsibility to ensure that their guests are not placed at undue risk of suffering harm due to unsafe conditions on their premises. As the owners of these establishments, they are familiar with the dangerous circumstances that unsuspecting customers and guests could face, and they should address these problems before someone gets hurt. Unfortunately, this responsibility is not always upheld, potentially causing dangerous accidents and serious injuries to occur. For this reason, property owners may be held liable for their negligence in placing others in harm's way.
With over 100 years of combined legal experience, Hach & Rose, LLP has made it our mission to fight on behalf of our clients after they were hurt due to hazardous conditions on another person's property. Unlike other law firms, we will work tirelessly to represent your claim in the court of law. We have a deep understanding of how these types of accidents happen, and we are familiar with the evidence needed to prove your claim. It is okay to be hesitant to move forward with a lawsuit, but you should know that with these types of cases, it is usually an insurance company and not the individual who will be forced to pay for your injury. Even if you are injured in a private residence, you owe it to yourself and your family to seek fair compensation for your injuries or risk placing yourself in a desperate financial situation. Contact Hach & Rose, LLP for a free consultation, and we will review the details surrounding your accident.
Hach & Rose, LLP has the experience and knowledge you need to hold the other party accountable for failing to keep their premises safe and forcing you to deal with an avoidable injury. You shouldn't have to deal with the consequences of your suffering alone, and we are prepared to assist you with your claim. We have successfully secured over $250,000,000 in verdicts and settlements, and we work on a contingency fee basis. That means you won't owe us anything if you don't successfully secure the financial compensation that you deserve.
Read our Tips for Keeping Your Building Safe article
Why You Need An Attorney
A New York premises liability lawyer can help you recover medical costs associated with medical treatment, physical therapy, and even pain and suffering. Your accident could have been avoided if the problems on the premises were addressed, but instead, the property owner's indecisive action has left you with an unnecessary injury. Your lawsuit is only fair because the hazards on the property caused you harm. Oftentimes, serious injuries force the victim to take time off of work to recover. Without a source of income, the financial security of you and your family's future can quickly become jeopardized. We believe that you should not have to bear the financial consequences of your injury alone, and Hach & Rose, LLP is ready to help protect your rights.
How We Can Help
There are a number of different ways a guest or visitor may suffer an injury on someone else's property. Some of the most common causes cited for premises liability cases include:
Whether you have suffered due to the above or as a result of another premises liability concern, we will fight vigorously to help you secure the compensation you need.
Frequently Asked Questions
We realize that you never planned on being hurt on someone else' property, and you may be unsure of what actions you should take and what you might be owed. The best thing you can do is talk to a knowledgeable premises liability attorney who can guide you through this challenging time. You may be able to secure financial compensation for a property owner's negligence, and it is in your best interest to understand all of your options moving forward. Hach & Rose, LLP can help answer these frequently asked questions and more. Contact us at (212) 779-0057 to schedule a no-obligation, confidential consultation to discuss your case today.
How can a property owner be held accountable for my injuries on their property?
According to tort law, a tort is a legal term for an action or inaction that caused another person to suffer, which inevitably leads to civil legal liability. Tort law mandates that people act reasonably to prevent avoidable injuries from taking place and failing to do so can expose them to lawsuits in a civil court. Injuries that occur on someone's property fall under this area of the law, since they must protect guests and visitors from harm.
What type of evidence is needed to prove my claim?
A thorough investigation is required to prove the other party's liability in court successfully. The attorney who represents your case will likely reach out to other professionals who are experts in their field to evaluate architecture, engineering, and design flaws. Your attorney will be able to determine the next course of action once the facts are gathered.
What should I do if the other person's insurance company tries to contact me?
Do not speak with an insurance agent until after you have received counsel from an attorney. Insurance representatives are trained to ask questions that can be used against you to diminish your claim. You do not have to discuss anything with the insurance company, provide any statements, or sign any documentation. If you do, it may prevent you from being able to seek financial compensation for your injuries.
Who is responsible for my injuries?
Depending on how your accident occurred, many parties may hold responsibility. For instance, if you were injured after falling over an uneven or damaged city sidewalk, the local municipality could be liable for failing to maintain the public pathway. If your accident took place in a building that is used for business, then the owners of the business, the property owner, and the management company could all be named as defendants. Schools can also be held responsible for a variety of accidents and injuries. If school officials were aware of another student's capacity to cause harm, then they may be liable for that student causing harm to your child. It is essential to speak with a qualified New York premises liability attorney to discuss the relevant facts surrounding your claim.
Is time a factor?
Yes, the statute of limitations requires all claims involving personal injury to be filed within a strict timeline. Failing to do so will prevent you from taking legal action to obtain what is legally owed to you. Different rules apply to certain claims, and it may depend on if you are filing a lawsuit against a business, private owner, municipality, or school. It is critical that you speak with an attorney as soon as possible to defend your rights.
Contact Us
If you or someone you know has been the victim of an accident caused by a property owner's negligence, you should not have to bear this burden alone. Contact the NY personal injury lawyers of Hach & Rose, LLP, by calling (212) 779-0057 today to discuss your case with a qualified legal professional and learn more about your legal rights and options.