Millions of Americans use machines to help with sleep apnea, a condition marked by disruptions in breathing during sleep. Philips, a large multinational corporation, is among the many companies that manufacture ventilator devices to treat sleep apnea. Recently, Philips voluntarily recalled certain CPAP machines and ventilators because using them can increase cancer risk.
In a recent announcement, Philips disclosed that the sound abatement foam in some of their ventilator devices can degrade into particles that might enter the air pathway and be inhaled by the user. The company also said this foam might off-gas toxic chemicals. These particulate matter and gases could cause cancer. According to Phillips, foam degradation might be increased by using unapproved cleaning methods. High heat and humidity environments could also contribute to the degradation.
Approximately 3.5 million Bi-Level Positive Airway Pressure (Bi-Level PAP), Continuous Positive Airway Pressure (CPAP), and ventilators are equipped with this foam and are all being pulled from the market. While Phillips says they are taking action to remedy the dangers associated with its CPAP machines and ventilators, it could be too late for the many users of these defective devices.
You might consider filing a lawsuit if you've been diagnosed with cancer after using a Philips Bi-Level Positive Airway Pressure (Bi-Level PAP) or Continuous Positive Airway Pressure (CPAP). You could be owed compensation for your medical expenses, lost income, and pain and suffering. With the help of an experienced attorney at (888) 818-1546, you can hold Philips accountable for causing you harm. Call (888) 818-1546 now for a free and confidential consultation.
Health Risks Associated with Phillips CPAP Machines
There have been reports that some people have suffered serious health issues due to foam degradation in Phillips CPAP machines. The potential risks of exposure to this toxic foam include:
Cancer
Coughing
Headache
Organ damage
Irritation
Inflammatory response
Breathing problems
Toxicity
Hypersensitivity
Nausea and vomiting
Featured Attorneys
Mike Rose and Brandon Cotter are the featured Attorneys handling CPAP cases at Hach & Rose, LLP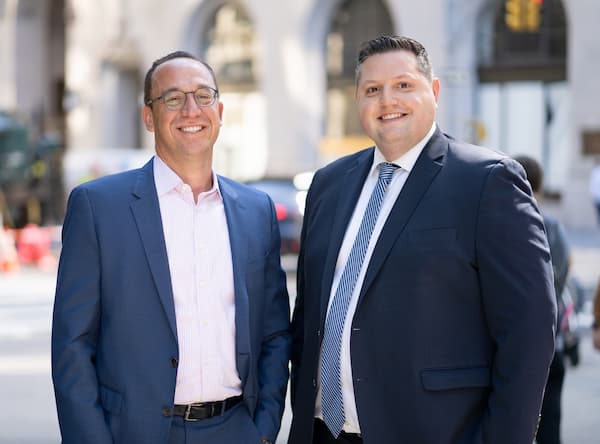 CPAP Machines and Ventilators Subject to Recall
If you use a CPAP or Bi-Level PAP, it's important to check if your device is among those considered dangerous. The Phillips devices subject to the recall include:
All Devices manufactured before April 26, 2021, such as:
Continuous Ventilator
Trilogy 100
Trilogy 200
Garbin Plus, Aeris, LifeVent
Continuous Ventilator, Minimum Ventilatory Support, Facility Use
A-Series BiPAP Hybrid A30 (not marketed in the United States)
A-Series BiPAP V30 Auto
Continuous Ventilator, Non-Life Supporting
A-Series BiPAP A40
A-Series BiPAP A30
Continuous Ventilator, Minimum Ventilatory Support, Facility Use
E30 (Emergency Use Authorization)
Continuous Ventilator, Non-Life Supporting
DreamStation ASV
DreamStation ST, AVAPS
SystemOne ASV4
C-Series ASV
C-Series S/T and AVAPS
OmniLab Advanced+
Noncontinuous Ventilator
SystemOne (Q-Series)
DreamStation
DreamStation Go
Dorma 400
Dorma 500
REMstar SE Auto
If you've used any of these devices, seek medical treatment immediately. Even if you don't think your CPAP machine or ventilator had any of the disclosed problems, you might have suffered adverse health effects you're unaware of. A doctor can examine you to see if you are affected by the defect and promptly treat you.
If you've been harmed due to a defective CPAP machine, you could be owed significant compensation from the manufacturer.
What If I Believe a Foam Degradation Caused My Cancer?
Despite a low complaint rate (0.03%), Philips determined from their testing that there are possible risks to users related to the type of foam in their CPAP machines. The risks include that the foam might degrade into toxic particles.
At this point, it's difficult to determine exactly how pervasive the health risks are from inhaling the toxic degraded foam particles. If you've used one of these devices, we recommend that you talk about the recall with your family doctor.
If you're experiencing health issues, including cancer, related to foam degradation, talk to your family doctor or an oncologist as soon as possible. Your doctor might recommend further testing for cancers caused by toxic foam exposure. After discussing your concerns with a physician, consult an experienced defective product lawyer.
Why Choose Hach & Rose, LLP
The highly skilled and experienced New York defective product lawyers at Hach & Rose, LLP can evaluate your Phillips CPAP claim and discuss your legal options. We can determine whether you're entitled to financial compensation. If we represent you in a Philips CPAP lawsuit, our attorneys will handle the case on a contingency fee basis. This means you won't owe any upfront expenses and won't be charged legal fees until and unless we help you recover compensation.
If you've suffered harm from one of the recalled Phillips CPAP machines or ventilators, contact the experienced New York product liability lawyers at Hach & Rose, LLP immediately. We can listen to all the facts of your case and explain your options. We might be able to help you get various types of compensation in a CPAP lawsuit, including:
Related medical bills
Lost wages
Future income loss
Pain and suffering
Hach & Rose, LLP has a strong track record of successful verdicts and settlements for clients in New York and throughout the country. We've helped clients recover over 10 Million in fair compensation for their harm. We'll be ready to put our skills, experience, and resources to work for you.
Contact Us Today
Have you been diagnosed with cancer or suffered adverse health effects after using a Philips CPAP machine for sleep apnea? If so, you might qualify to file a Philips CPAP lawsuit for financial compensation.Our CPAP lawsuit consultation is free and comes with no obligation. If you choose us, you won't pay any attorney fees unless we win your case and you receive financial compensation. Call Hach & Rose, LLP today at 
888-818-1546
 and allow one of our experienced Philips CPAP lawsuit attorneys to review your claim.