At Hach & Rose, LLP, we believe no one should have to worry about whether they are adequately protected from the dangers of their work. Everyone should be able to work in a safe environment, regardless of the job they're performing. But if your employer doesn't take the necessary steps to protect you, where can you go? What options do you have?
If you or someone you love suffered exposure to asbestos while working as a bricklayer or stonemason, consider speaking to the New York asbestos exposure attorneys at Hach & Rose, LLP about filing a personal injury claim or lawsuit for compensation. We have decades of legal experience that we can put to work for you and your family. Call us today at (212) 779-0057 for a free, confidential consultation, and let us determine whether you're eligible. Don't let an asbestos-related injury slow you down. Call Hach & Rose, LLP today.
Asbestos and Masonry
Asbestos is a group of naturally occurring minerals used in insulation, fire-retardant materials, and other consumer products. Asbestos products are highly toxic and cause various diseases and injuries such as mesothelioma, asbestosis, ovarian cancer, and lung cancer. Though asbestos is banned in many countries and is highly regulated in America, it is still used in many products. It continues to cause serious harm to anyone exposed to it.
Asbestos usually enters the body through inhalation, though asbestos fibers can be swallowed as well. Once it enters the lungs, it cannot be removed. There is no known method for extracting asbestos fibers from the body. Over time, as more asbestos fibers are inhaled, they become lodged in the lungs and cause physical and cellular damage to lung tissue. Eventually, the damaged cells become cancerous. The process typically occurs over many years. Most asbestos-related diseases don't appear until up to 35 years after initial exposure. Over a long enough timeline, anyone exposed to large amounts of asbestos will likely develop asbestos-related disease regardless of the safety measures taken to prevent it.
From the 1940s through the 1980s, asbestos was widely used in new building construction and masonry work as fire-retardant insulation. It was also an ingredient in masonry cement, caulks, cinder blocks, and bricks. Construction and masonry workers working during this time would have been exposed to large amounts of asbestos. Bricklayers, chimney sweeps, tile workers, stonemasons, plumbers, and roofers actively working at this time are all at high risk of developing asbestos-related illnesses or cancer.
How Will a Personal Injury Claim Help Me?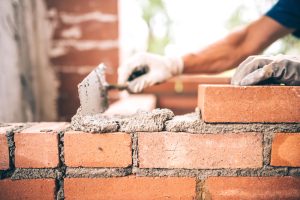 We help our clients get compensation through personal injury (PI) claims and, in some cases, personal injury lawsuits. A PI claim is essentially an insurance claim. We ask the insurance company of the party responsible for your illness to pay for the harm their customer caused. The goal of the process is to obtain monetary compensation for your losses, not to convict anyone of a crime. PI claims are handled in civil, not criminal, court.
The process can be complicated and is best handled with the help of an experienced lawyer. It starts with your attorney reviewing your case to determine whether you have a legitimate way to collect compensation. If we believe you have a valid claim, we sign on to represent you and start building your claim.
Your attorney will interview you for your side of the story and gather evidence and documentation to support your claim. Once we have enough evidence, we draft and submit a demand letter to the insurance company. A demand letter is a document outlining your losses and the compensation you expect in return.
The insurance company will review and investigate your claim, and based on the outcome of their investigation, agree to pay you a settlement or deny payment. A settlement is a cash payment to compensate you for your losses on the condition that you drop your legal claim against their customer. They may offer a settlement amount that is less than what you requested to make you go away, which is often called a nuisance settlement.
If they deny payment or don't offer an adequate amount, your attorney may suggest moving forward with a lawsuit in New York's civil court. The vast majority of PI claims are handled with a settlement before the case goes to court.
Why Do I Need a Lawyer for My Asbestos Exposure?
Handling a PI claim on your own is possible but not recommended. An attorney is necessary to make sure your claim is complete and error free, and to make sure you get the maximum amount of compensation possible.
Your attorney will help you in many ways. We will do all the work to build your claim so you can concentrate on living your life and spending time with your family. This includes gathering medical records or employment records to prove asbestos exposure caused your illness and interviewing expert witnesses who can speak on the danger faced by bricklayers and stonemasons exposed to asbestos.
We will help you get the maximum possible payout by identifying all of the losses you've suffered due to your asbestos exposure. This includes losses to your well-being and the mental trauma caused by your illness.
We will also be your chief negotiator with the insurance company. We will work hard to protect your rights and keep dishonest insurance adjusters from trying to take advantage of you.
For over a decade, we've developed a reputation in New York as a firm that gets the job done. We understand and appreciate the challenges faced by bricklayers exposed to asbestos and genuinely want to help in any way we can. We know how to make the law work for our clients, and we can show you.
You will pay nothing upfront for our services. We work on contingency, which means we only collect payment if we successfully obtain the compensation you need. If we fail, we don't get paid.
We've collected over $400 million in settlements and awards for our clients in the past decade. Head to our Testimonials page to hear more.
Call Hach & Rose, LLP Today
If you've suffered harm due to asbestos exposure as a bricklayer or stonemason, don't delay any longer. Call Hach & Rose, LLP today at (212) 779-0057 for a free, no-obligation consultation. Let us help you get the just and fair compensation you deserve. Call Hach & Rose, LLP today.