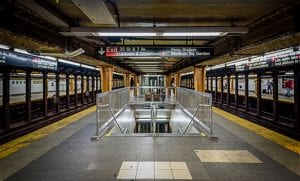 New York City is home to one of the most extensive public transportation networks in North America. In an annual report from the Metropolitan Transit Authority (MTA), researchers estimated that the total ridership on New York City subways, buses, and railroads was approximately 2.56 billion in 2018.
Unfortunately, this vast transit network also has an alarming number of fatal incidents. "In New York, we have more incidents of people on the tracks than anywhere else I've worked," said Andy Byford, the Chief Executive Officer of the New York City Transit Authority in a 2018 interview with the New York Times (NYT). Byford has served as a chief transit official in cities such as London, Sydney, and Toronto.
According to the NYT report, the number of incidents where someone was caught on the tracks or hit by a train amounted to roughly 900 in 2017. "It's a real challenge, and it's one of the many factors we need to tackle in this all-out push to improve the reliability of our service," Byford added.
Accidents involving New York City's public transportation systems are not to be taken lightly. Even minor incidents or malfunctions can result in devastating consequences for both travelers and laborers. Additionally, New York City subways can be incredibly dangerous environments, where passengers are vulnerable to robbery, health hazards, harassment, and even fatal assault.
Personal injury cases involving public transport systems can be extremely complex. However, depending on the nature of the case, injured parties may be entitled to financial compensation. Some potential cases of personal injury include:
Obstructed pathways
Smoke inhalation and burns from track fires
Malfunctioning subway cars
Malfunctioning elevators and escalators
Insufficient security, resulting in assault
Contact a New York Subway Accident Attorney
If you or a loved one has been hurt or fatally injured in a subway accident, the attorneys at Hach & Rose, LLP, will be here to help you take immediate action to hold the responsible parties accountable. Schedule a free, no-obligation consultation with one of our New York subway accident lawyers at  (347) 318-9604 or reach out to us online. We represent those who've been hurt in subway accidents on a contingency fee basis, which means you won't owe us anything until we win money for you.
---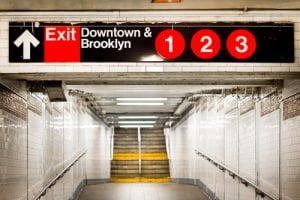 The New York City transit is the largest subway system in the U.S., transporting over 7 million passengers each weekday, and more than 1.3 billion rides each year. According to a review: Health and Safety Hazards Associated with Subways, published in the Journal of Urban Health,  subways pose a number of serious health and safety issues for passengers and transit workers.
Some of the most serious risks outlined in the journal include:
Physical – Includes accidents, extreme temperatures, vibration, noise, electrified sources
Biological – Infectious diseases, either person-to-person or vector borne (example, a disease spread by rats)
Chemical – Exposure to gas, emissions, fumes, toxic chemicals, or irritants
Psychosocial – Violence and work stress
Terrorism – Mass-casualty events
The journal also examined some of the most commonly-reported causes of injuries, and particularly those that fall under the category of "general injuries" caused by the often-hazardous subway environment. With so many people trying to make their way through narrow stairways, escalators, and elevators and standing on congested platforms, serious injury accidents could occur. Passengers and workers alike reported injuries caused by:
Slips, trips, and falls
Violence/theft caused by inadequate security or lighting
Sexual assault or harrassment
Depending on the specific nature of the accident or intentional action, those who've been injured could be eligible to pursue legal action. If someone pushed you down the stairs, for example, they could be liable for the injuries you suffer. If you slipped and fell due to inadequate lighting or debris on subway steps, however, the MTA could potentially be liable.
It's always crucial to hire an experienced subway injury attorney if you've been hurt, because determining liability is not always straightforward or evident. In some cases, multiple parties could share liability for your accident, so make sure to hire an experienced lawyer who understands how to build a strong case and secure compensation for the harm you've suffered.
Contact Hach & Rose, LLP for Help If You've Been Hurt
Hach & Rose, LLP represents those who've been hurt in accidents on subways or subway platforms across New York. If someone's actions or inaction hurt you or someone close to you, we'll be there to help get the compensation you're owed. While nothing can undo the harm you've suffered, we'll make sure that you don't have to struggle financially as you work toward recovery. Call us at (212) 779-0057 to schedule a FREE consultation with one of our trial lawyers today.
---
The subway and New York are practically synonymous, and for a good reason: it's impossible to think of one without the other. New Yorkers have been getting around the five boroughs by subway since 1904, just six years after they were consolidated into a single city. And like everything else in New York, the sheer scale of the modern subway system is staggering. It's the world's most extensive mass transit system by the number of stations operated, at 472, and the busiest in the Western hemisphere, with 1.72 billion rides annually — and roughly 5.6 million every weekday. Thousands of cars roll down 245 miles of routes operating 24 hours per day. If New York is the city that never sleeps, then the New York City Subway is the transit system that never sleeps.
Unsurprisingly, with the sheer number of people riding the subway every day, injuries and deaths are an all too common occurrence.  A subway train weighs 360 tons and has a top speed of 55 mph, the electrified rail carries 625 volts, and the entire system relies on signals, switches, and track equipment that can be as much as 80 years old. Less dramatically, the cars can lurch dangerously, the stations are perilously slippery when it rains, and the crowds are continually jostling.
Subway Injuries: By the Numbers
According to the Metropolitan Transit Authority's 2018 annual report, there were 2.97 rider injuries per million customers that year. While an injury rate of 0.000297% seems small, given that 5.7 million customers ride the subway every weekday, that figure translates to 17 per day. At the annual rate of 1.72 billion riders, that translates to about 5,100 injuries. Even if the MTA were able to reduce injuries to their target rate of 2.82 injuries per million rides, that would still be more than 15 per day and 4,850 per year.
Some potential causes of subway injuries include:
Lurching subway cars
Slippery station platforms and stairs
Obstructed pathways
Malfunctioning elevators and escalators
Car doors closing too quickly
Burns and smoke inhalation from track fires
Falling or being pushed onto the tracks
Falling between carriages
Assault due to insufficient security
According to a 2016 article in the New York Post, roughly 160 are struck by subway trains per year, 50 fatally.
Additionally, a study by the National Center for Biotechnology Information found that between January 1, 2003, and May 31, 2007, there were 211 subway train-related deaths
Our New York Subway Accident Lawyers Can Help
Subway injuries are a serious problem for New Yorkers and can result in steep medical bills, lost wages, and other expenses — expenses that may have been caused by the city's negligence. But if you or someone you love has been injured in a subway accident, you're not alone. The experienced subway accident attorneys of Hach & Rose, LLP can help you demand justice by seeking the maximum compensation possible. Contact us today by calling (212) 779-0057 or filling out our online contact form, and we'll begin fighting for you.
---